Back to: Trading with Smart Money
Spring and Upthrust Trading Strategy
In this article, I am going to discuss one volume trading strategy which is the Spring and Upthrust Trading Strategy. Please read our previous article Finding Entry Opportunity using Volume Spread Analysis for a better understanding of this article. As part of this article, I am going to discuss the following pointers in detail.
1. What is Spring?
2. Logic Behind spring
3. Some Elements for determining spring
           Spring and trend
           Spring and volume
           Spring and follow-through
5. When should avoid trading spring
6. My trading setup using spring
Spring (opposite upthrust(UT))
Price dips below support and rallies to close on or near its high and back above support, so there should be a clear minor or major support zone

Failure to follow through after breaking below support or recent swing low

All bullish pin bar is not spring but all spring is a bullish pin bar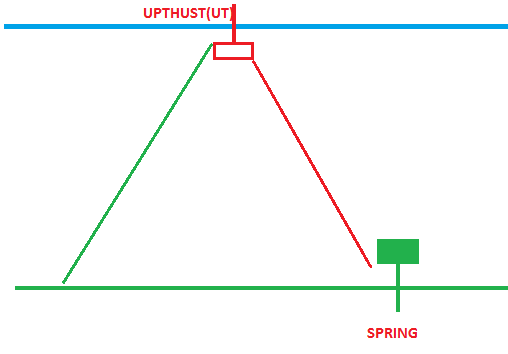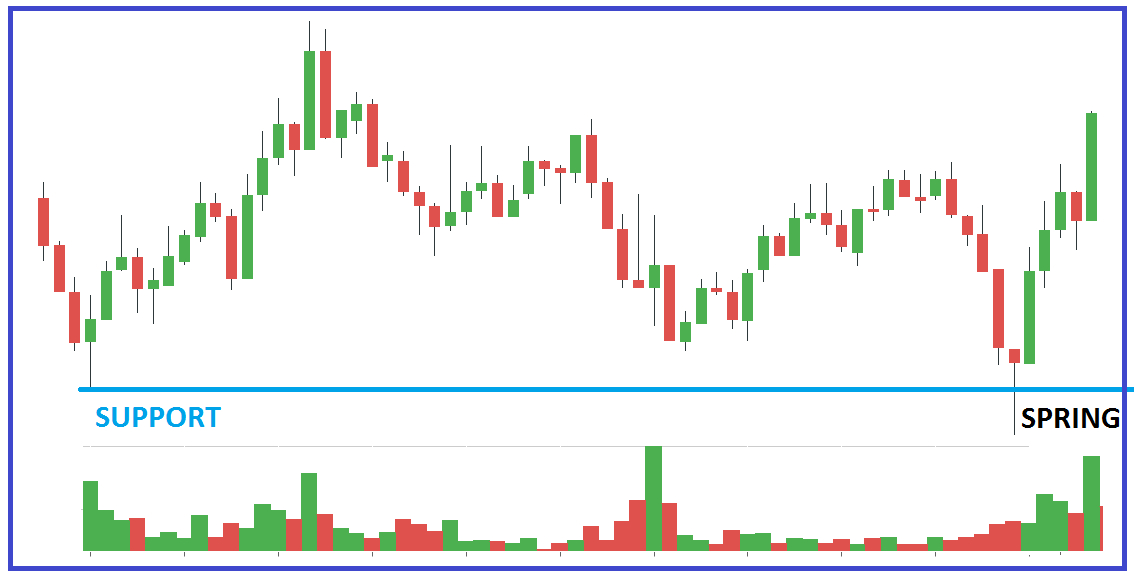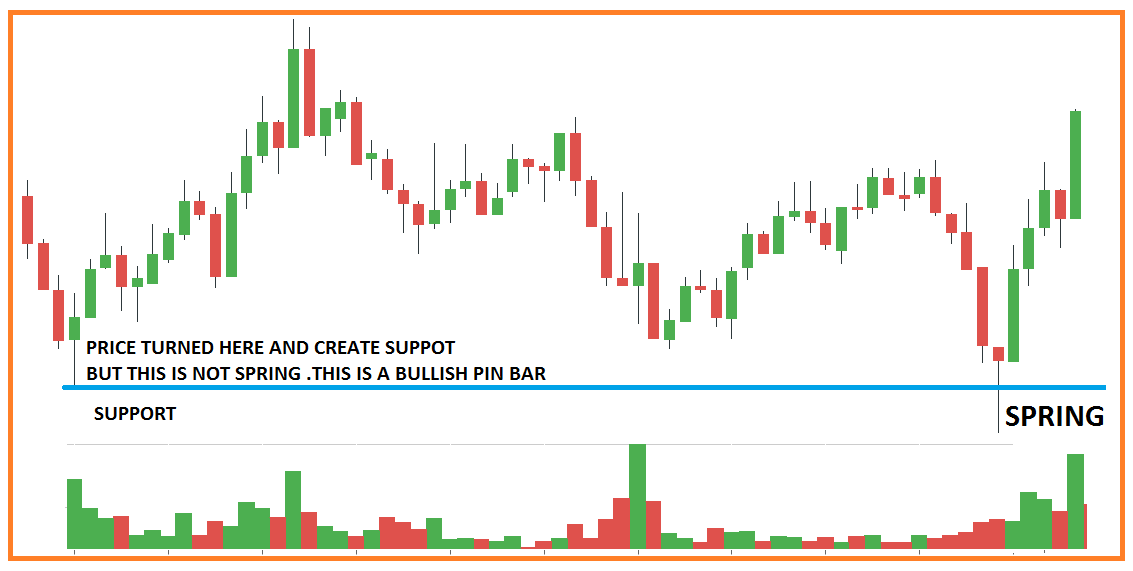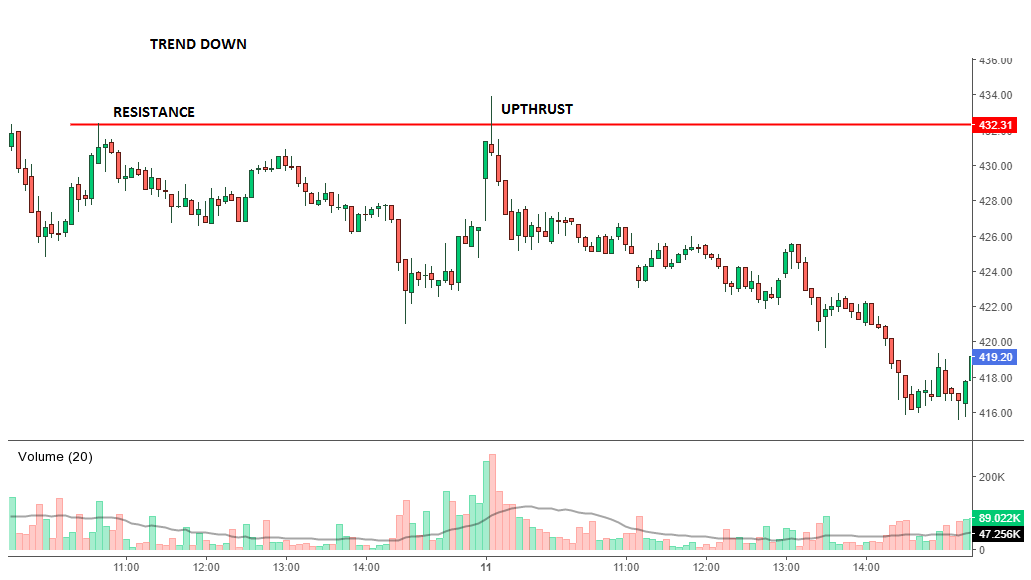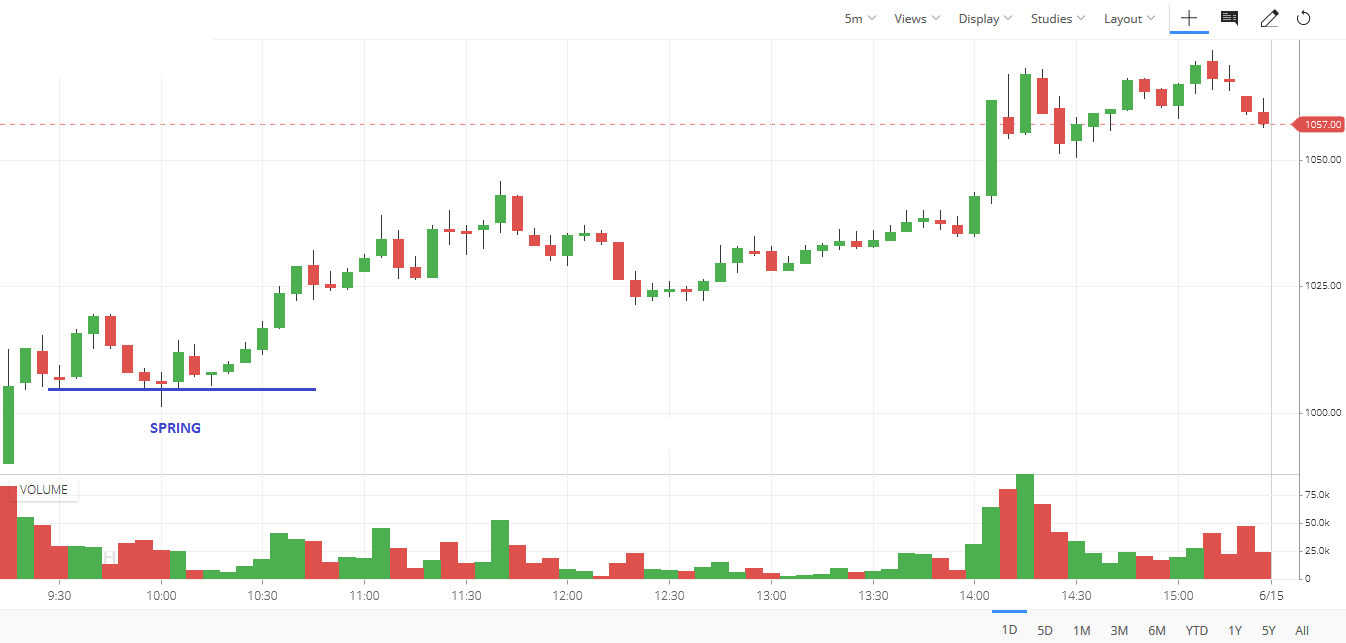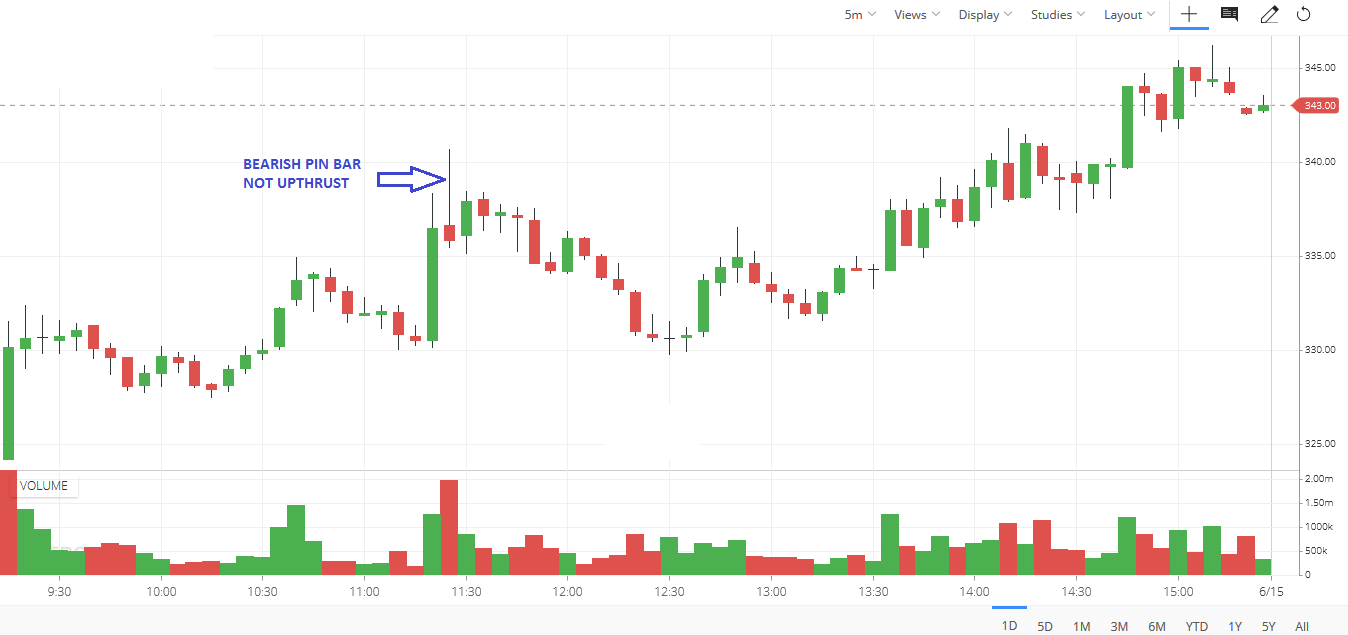 Logic
Spring is an example of a "bear trap". WHY? Because price drop below support appears to signal resumption of the downtrend. But In reality, the drop marks the end of the downtrend, thus "trapping" the late sellers or bears.
The strength of the sellers can be judged by the depth of the price drive to new lows below the support and the relative level of volume on that penetration.
A spring involves the penetration of a well-defined support level on low or moderate volume .think if a stock going to break the support, it must break with high volume. The spring action shows that the stock trying to break down and failed. It is an important sign of strength
Spring and Trend
During an uptrend
Pullback
They will work best in trending conditions. During an uptrend when the bullish signal appears, we go long.

A retracement to a prior resistance now- support area is a typically excellent trade

Fibonacci retracement level also worked well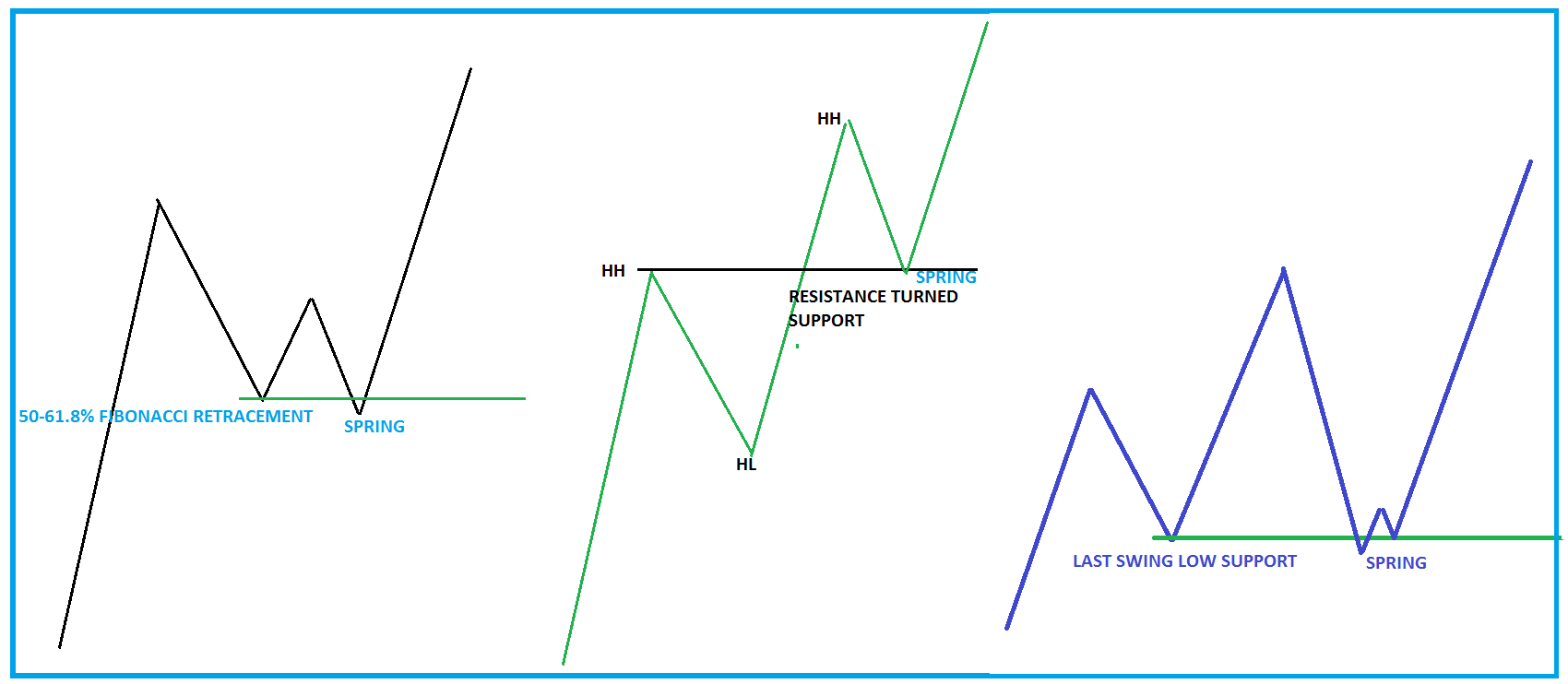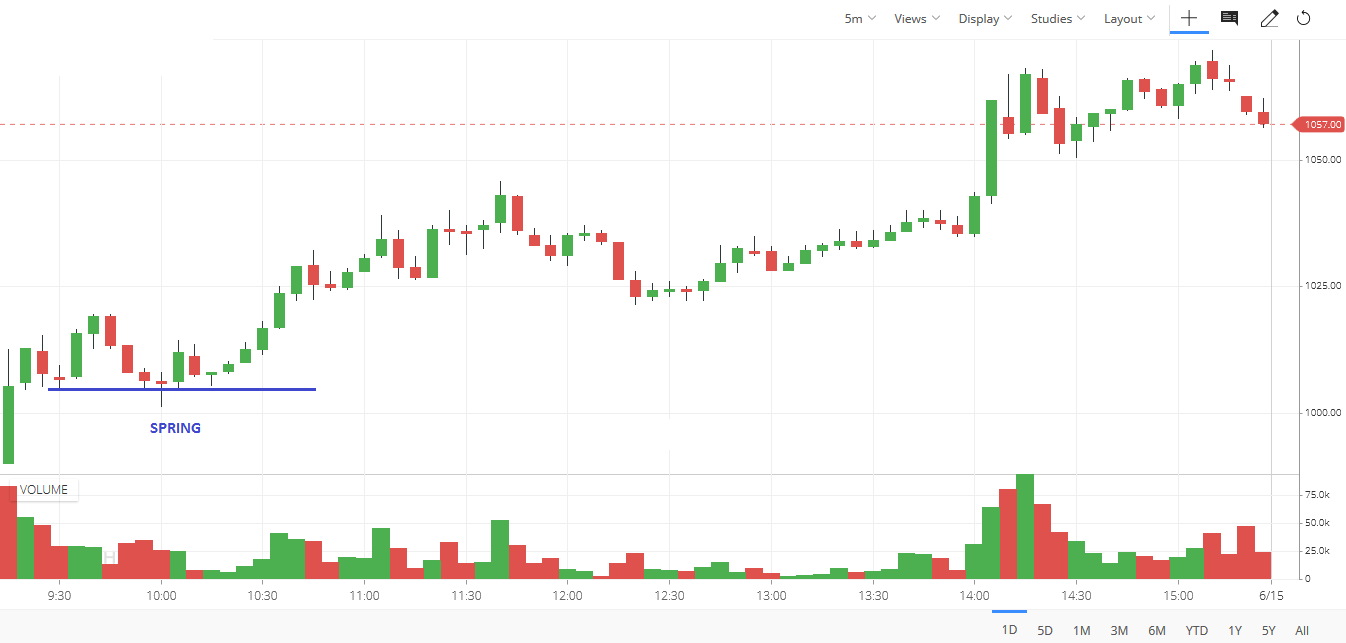 During a downtrend
During a downtrend when a spring signal appears then we need a retest of that spring before we can go long.
Condition
Be sure that prior trends are over

Background: The background is extremely important. You should see strength in the background with stopping volume or a selling climax or an end of a falling market

Then appears spring and Spring is Tested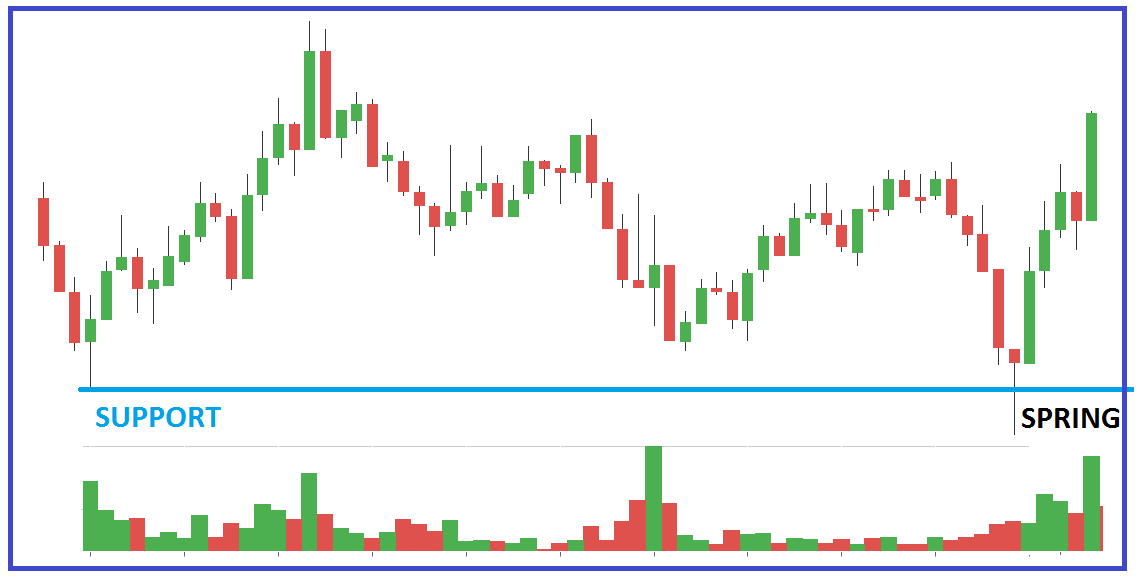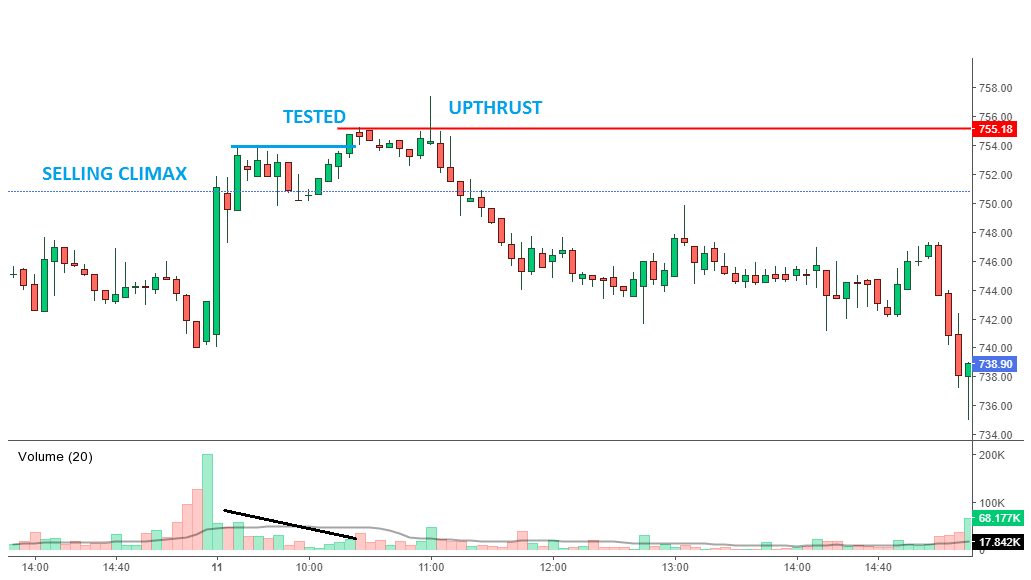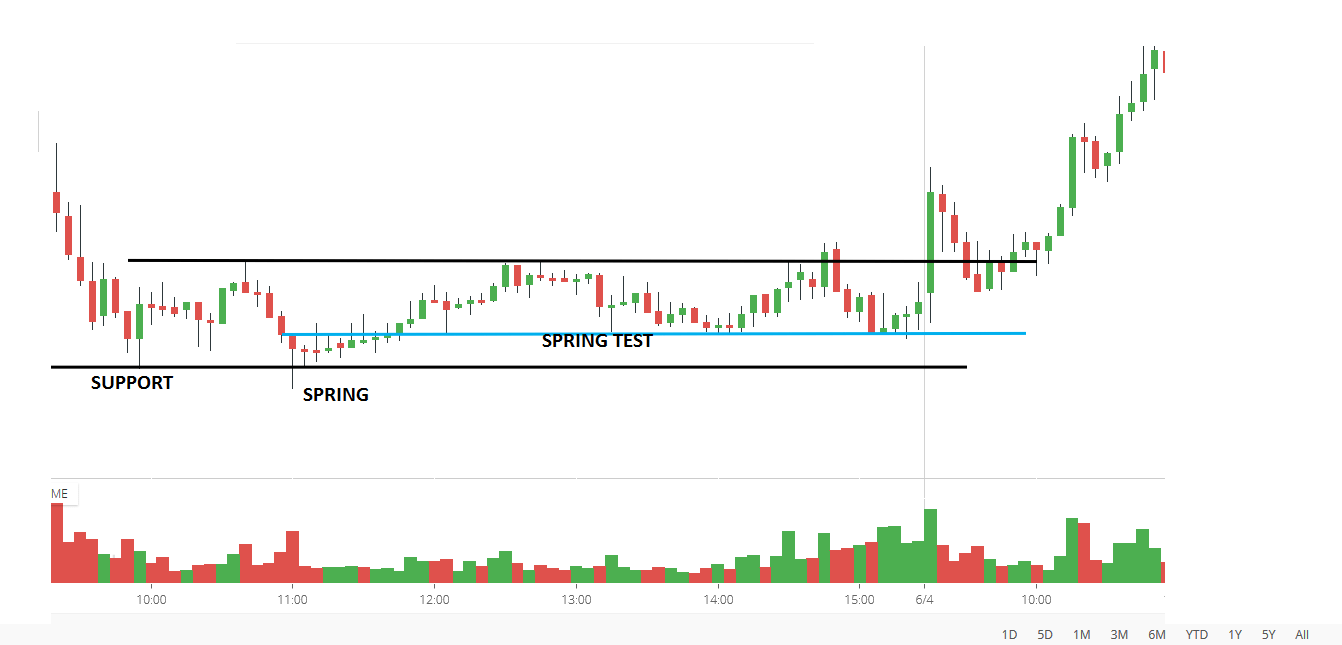 Spring and Volume
Low volume spring
Volume should be lower than the original anchor(where support first occurred ) candle at support when price retrace the first time to support the candle should have low volume than the anchor candle. The shallow price penetration and low volume indicate sellers are exhausted. springs should be bought immediately.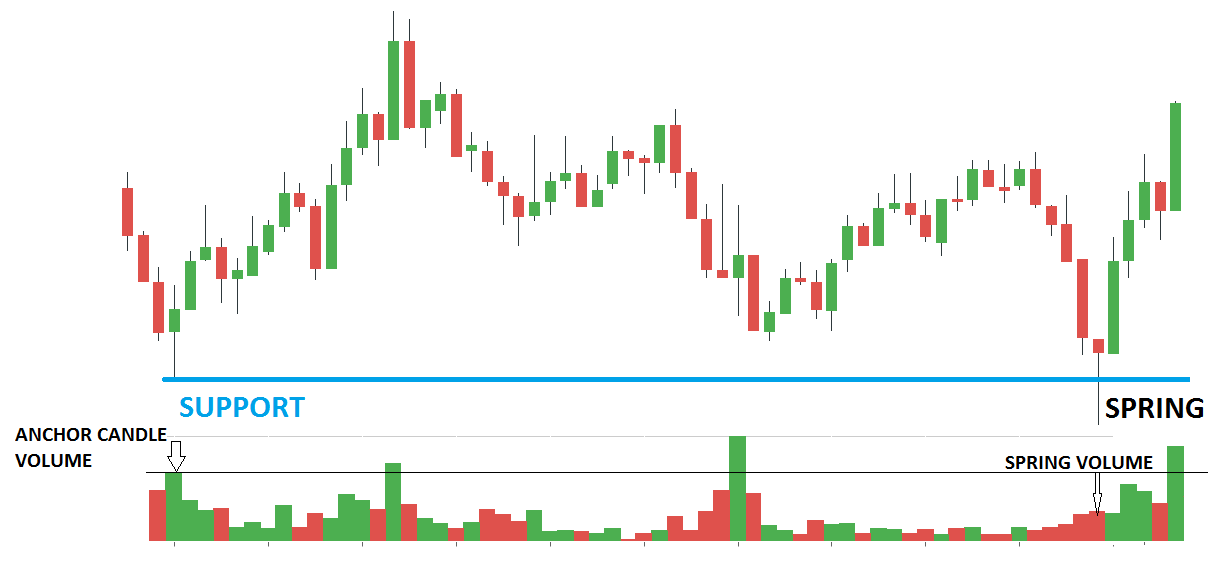 High volume spring
High volume indicates demand coming in, as we trade with the trend, springs should be bought immediately. If we want to trade for trend reversal. High volume indicates the presence of sellers more likely to test immediately or after some rally. In order to justify buying on the test of the spring, two criteria must be met.
First of all, the volume on the test must be lower than on the spring itself. If it is not, nothing is proven and no buyer should be done.

Secondly, the price should hold at a higher level on the test than on the spring, It is especially positive if the price supports at or above the support level on the test.
If these two criteria are met, the stock can be bought on the test of the spring. Immediately after the test, the stock should begin a rally.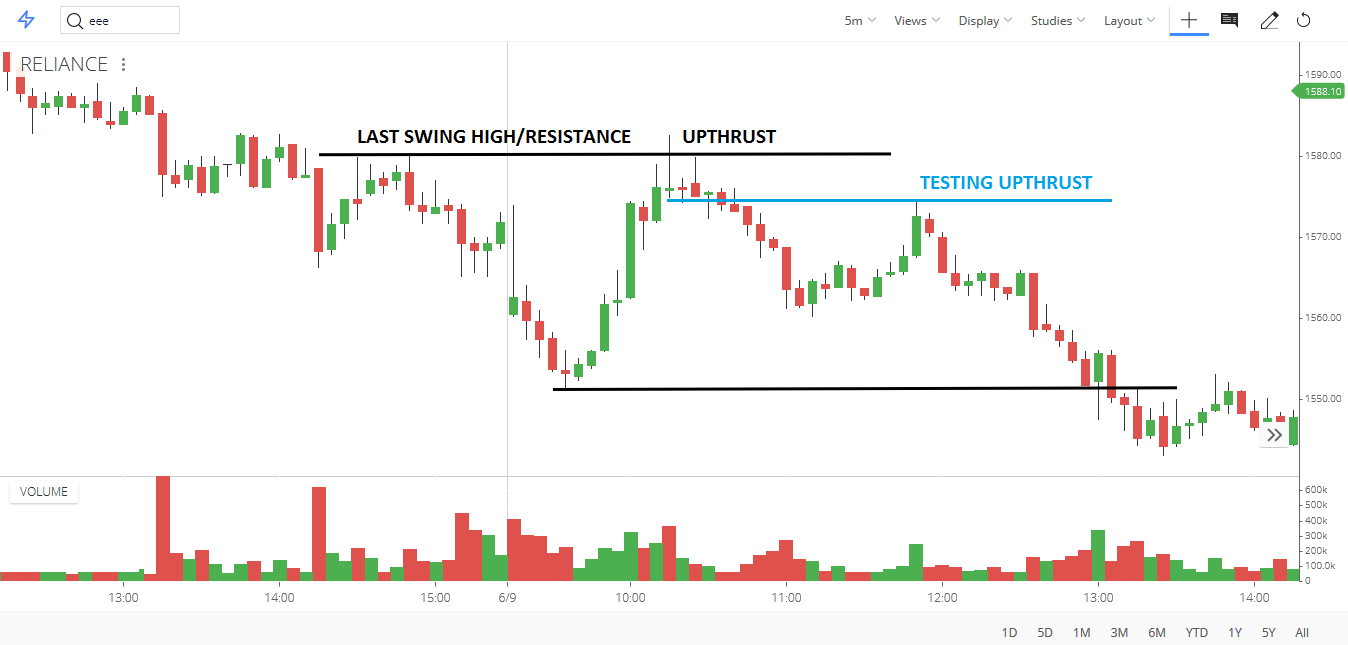 Spring and Follow-through
WHAT PRICE ACTION SHOULD HAPPEN AFTER SPRING? If a spring fails to rally away from the SUPPORT and the price hangs near the Spring low, then Something is likely wrong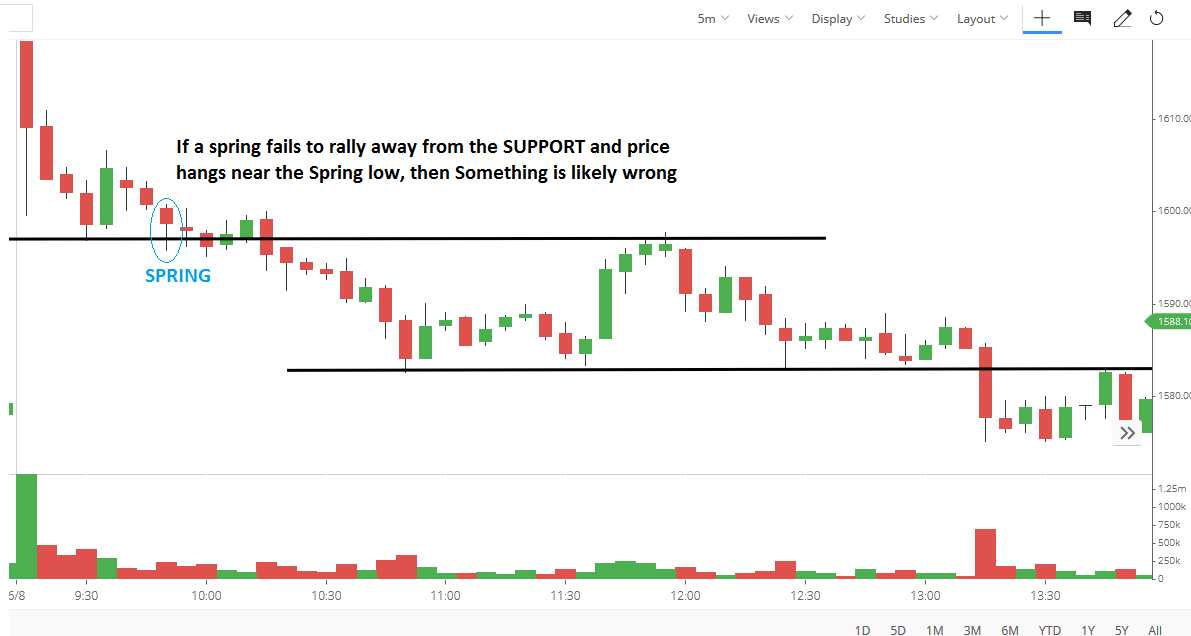 WHEN SHOULD AVOID TRADING SPRING
Context or background move
Supply dominated
In a Downtrend where supply is dominated. the swing down to Spring has supplied (price decreasing and volume increasing) compare to demand swing, the odds of success are low
Momentum should be lost when approaching support and the spring indicate strength this is a good context. If momentum increases when approaching support and the next is a spring, the context is not showing strength and the spring should be seen in the suspect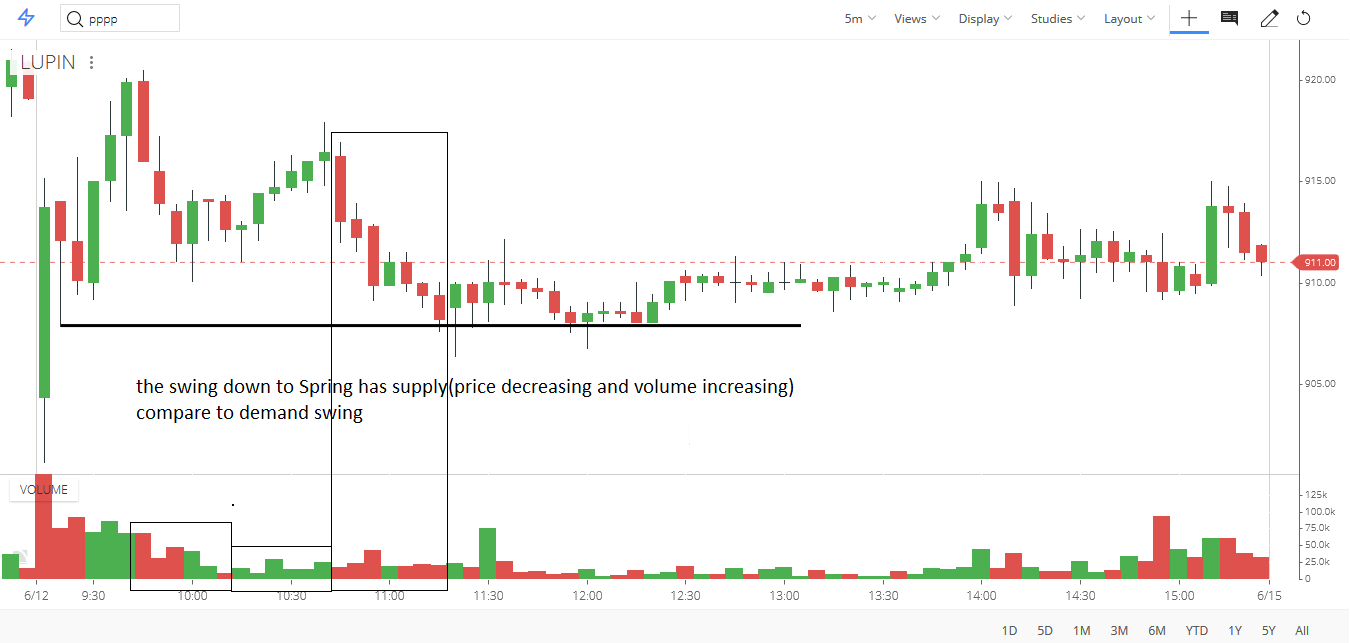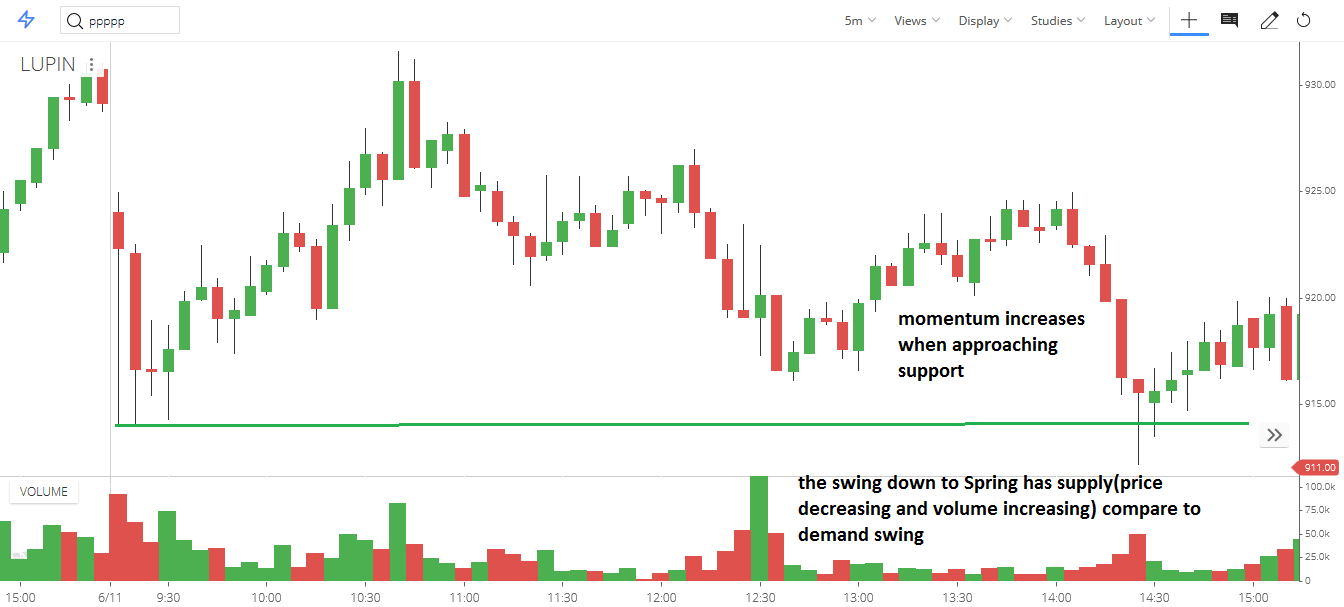 Last demand swing
Shortening of thrust. Thrust Refers to the distance between the current swing high to a previous swing high (in an uptrend) or swings low (in a downtrend). Increased thrust is a sign of potential trend strength. Shortening of Thrust is a sign of potential trend weakness. If the last swing high is characterized by diminishing demand(price increasing and volume decreasing ) odds for success are lower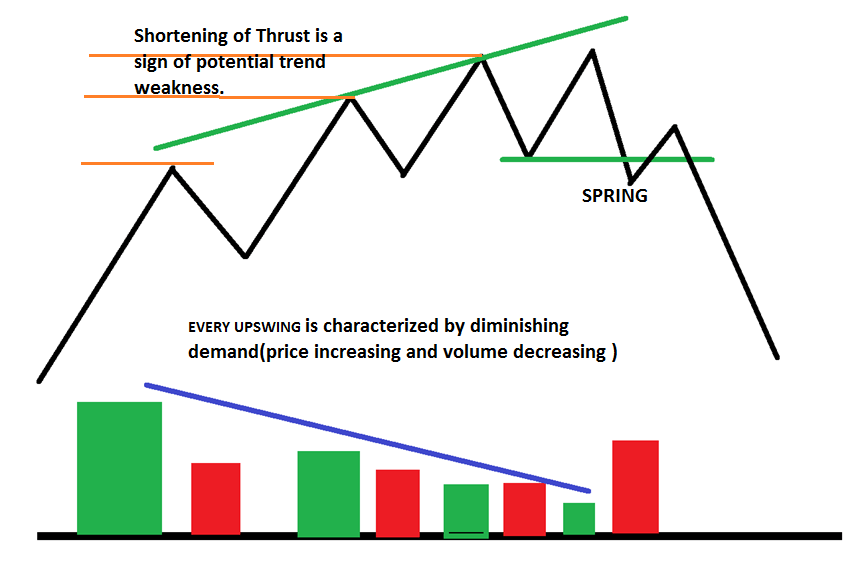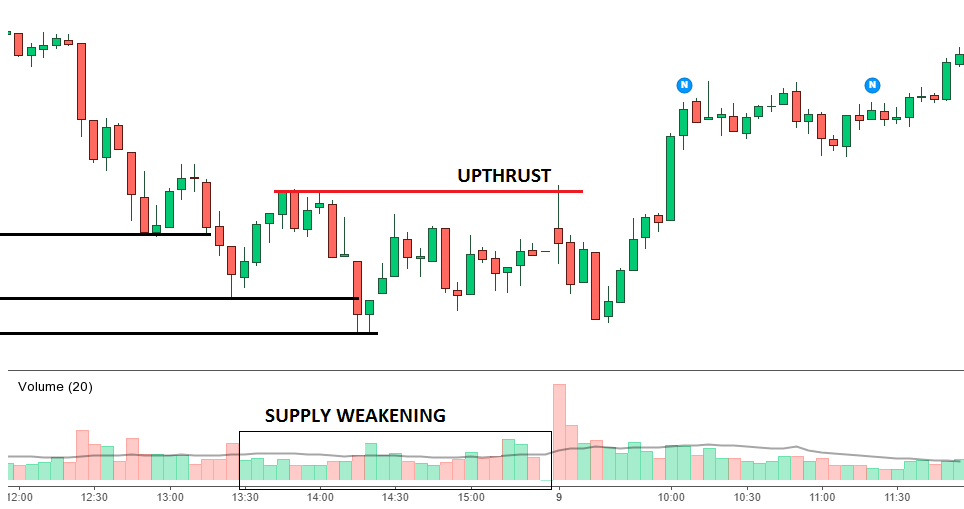 My SPRING SETUP(opposite for upthrust)
Trend continuous setup
ELEMENT REQUIRED
SPRING

WELL DEFINED SUPPORT

VWAP
Support
Last swing low or resistance turned into support

Fibonacci retracement level (50-61.8%)
Time frame:
Applicable
Context or background
Market in a defined uptrend

Cleared support level

Low volume when approaching support level
Set up condition
Price retrace towards support on low volume

Spring at the confluence of support plus vwap (strong signal) or spring at support
Entry
Buy above the spring

Or Test of spring
Stop loss
Target
Next resistance

Or any bearish reversal price action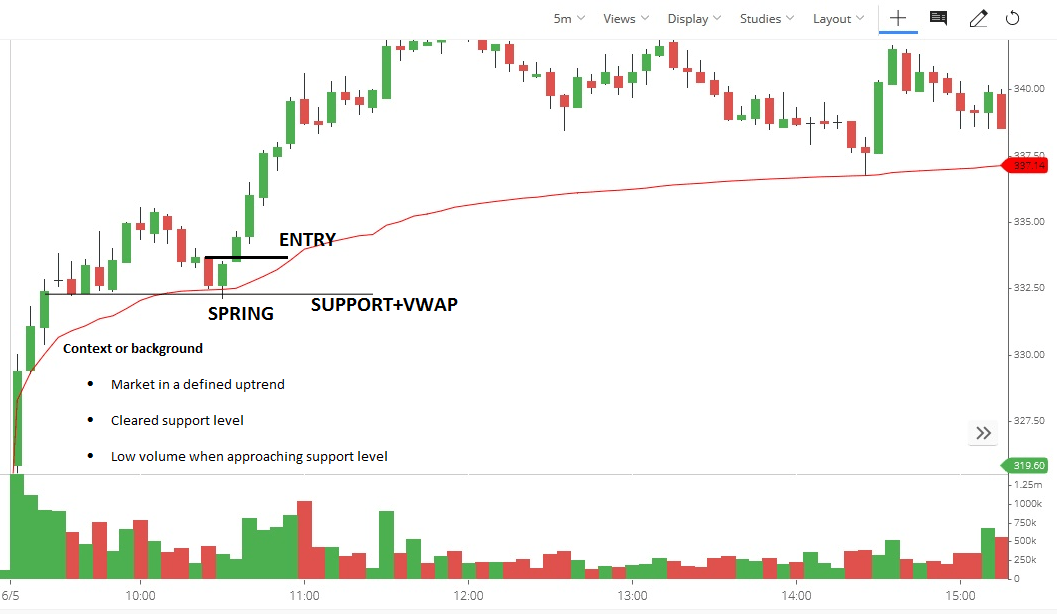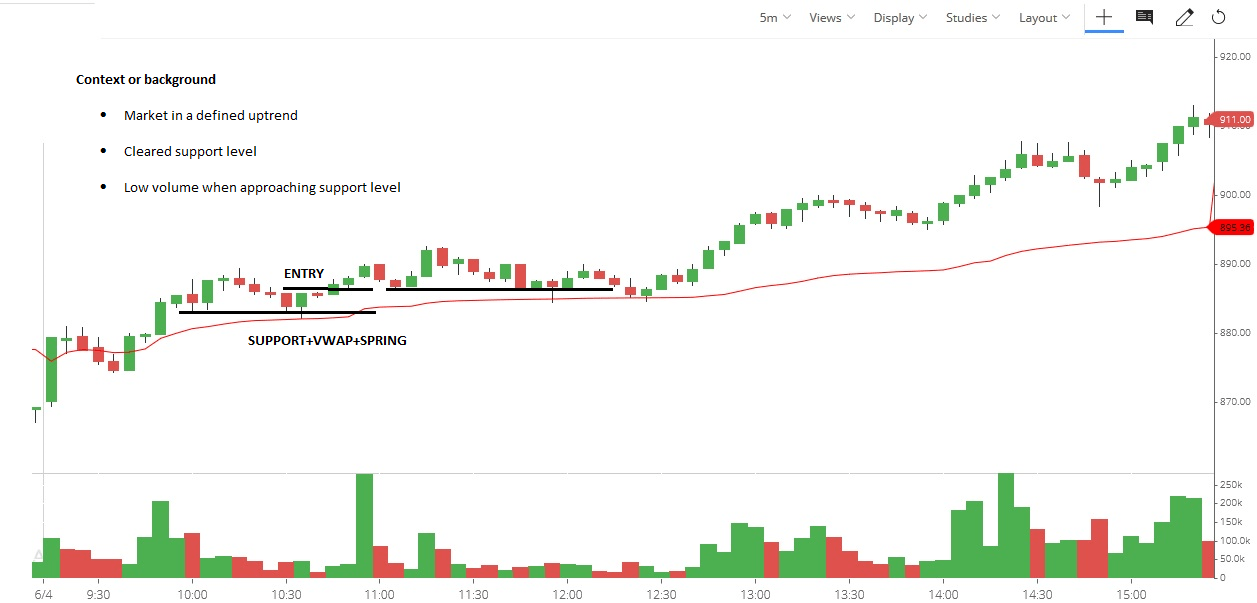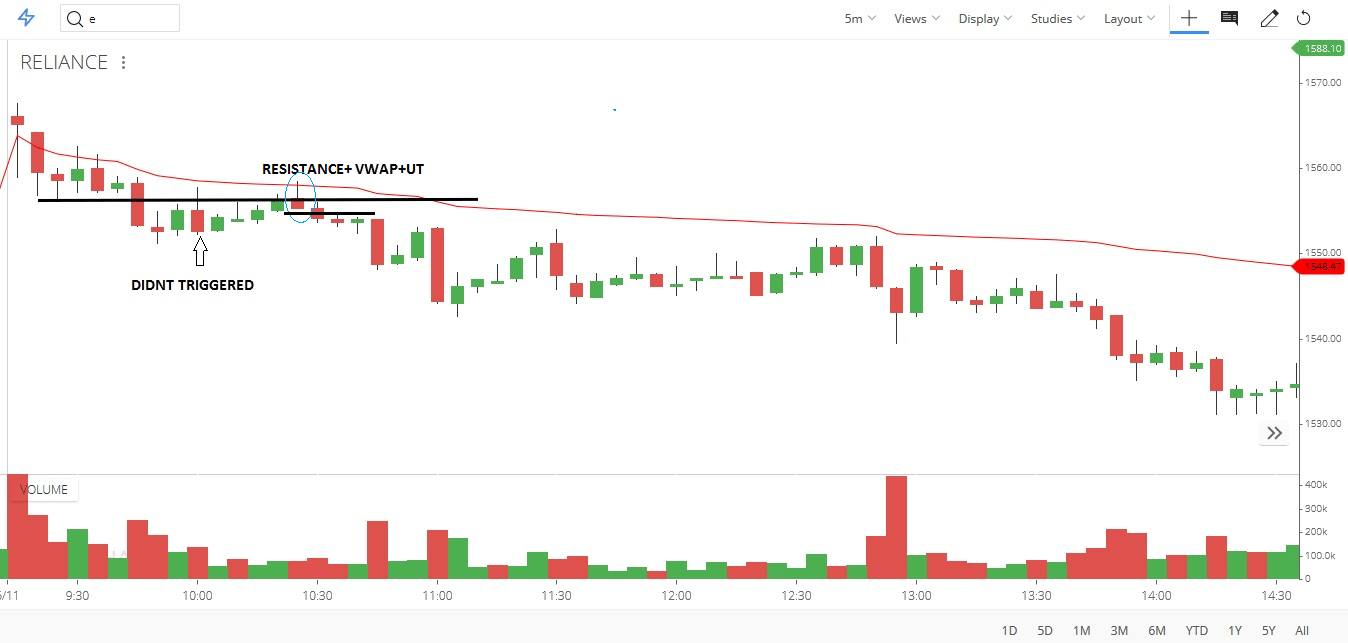 In the next article, I am going to discuss VSA (Volume Spread Analysis) Trading Strategy in detail. Here, in this article, I try to explain Spring and upthrust Trading Strategy. I hope you enjoy this Spring and upthrust Trading Strategy article. Please join my Telegram Channel and YouTube Channel as well as my Facebook Group to learn more and clear your doubts.