Back to: Trading with Smart Money
Sniper Order Block Entry Trading Strategy
In this article, I will discuss the Sniper Order Block Entry Trading Strategy. Please read our previous article discussing Liquidity Hunting or Stop Hunting in Trading.
Core Concept of Smart Money Trading System Using Order Block
Following the movements of major institutional investors or traders, who are often thought to have access to greater knowledge and resources than individual retail traders and who have the power to change the movement of the market, is referred to as "smart money." In trading
Who are they?
They can influence prices and direction because they actually have the power to change the market.

They can choose the top or bottom, or they can choose against the trend.
How can one recognize Smart Money (SM)?
By examining an order block or supply-demand region in a chart. Supply and demand (SnD) zones, or Order Blocks, are footprints the market leaves when an impulsive move occurs.
The Spread (i.e., range of the price bar) increasing

The clean Close (the point where the price closes on the current bar). And Consecutive directional candles close

The Volume (i.e., activity), generally volume increasing on impulse move
What is the Order Block in Trading?
Order Blocks are footprints left by smart money when an impulsive move occurs in the chart. Order Block (OB) is the last opposite candle before the strong impulse move that creates an imbalance in the market and breaks the market structure. Price will likely return to those zones before it triggers another impulse move to continue with the trend.
What is a smart money trap in Order Block?
Every order block is not a valid order block. Then how smart money trap. Smart money only targets areas where higher Volumes or liquidity are pending, and he grabs the liquidity by
induce traders to take positions in the wrong direction or location

Create panic and fear by moving against their entry

Hit the stop Losses and grab the liquidity
Why did they do this?
The main objectives of the smart money trap are as follows:
Avoid Slippage due to big orders. Stop hunts are one of the mechanisms for Institutions to be able to carry out large transactions without "slippage."

Buy low(discounts), sell high (premium)
Sniper Order Block Entry Trading Strategy Step-By-Step Process
Step 1: Identify market Structure (who is in control)
Principles of Smart Money Market Structure in Order Block Trading in any time frame. Price moves within the structure of the supply and demand zone. A breakout of the structure of the demand or supply zone will lead to price movement in the next area of the supply or demand zone.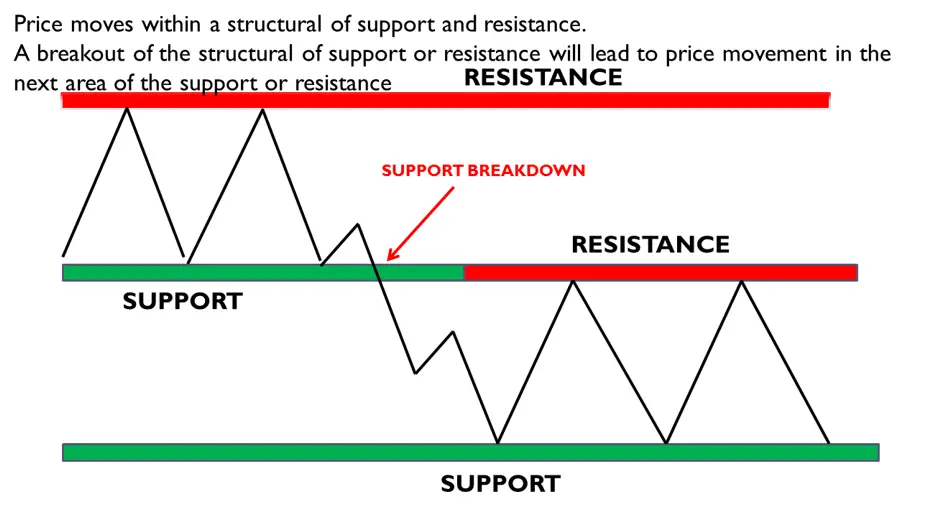 How do Identify the Market Structure in any time frame?
Analyzing a chart's price movement is one of the simplest ways to spot a trend. A downtrend is defined by a sequence of lower highs and lower lows, whereas a sequence of higher highs and higher lows defines an uptrend. The market structure gives us the bias for entry when the price breaks support or swings low in an uptrend, and it may indicate a trend shift to a bearish market.
The sideways market happens when the price moves between predefined support and resistance, which means 2 equal highs and lows. Price stays in a range during this point of the market and is in consolidation. This range is broken if the price breaks out from the top or bottom of the range, and This may be the beginning of a new trend, either in trend continuation or trend reversal. The higher time frame structure is for the market's direction, which means who is in control; we want to trade the controlling side of the market.
3 types of Market Structure:
Uptrend is also known as a Bullish Market. Will buy at discount zone or demand zone

A Downtrend, also known as a Bearish Market, sells at a premium or supply zone.

Sideways or Ranging Market. If ranging, will I scale down to a lower timeframe to find opportunities at a range high or low, and will stay out of the market in the middle of the zone?

Supply and demand zone or Order bock zone (any time frame)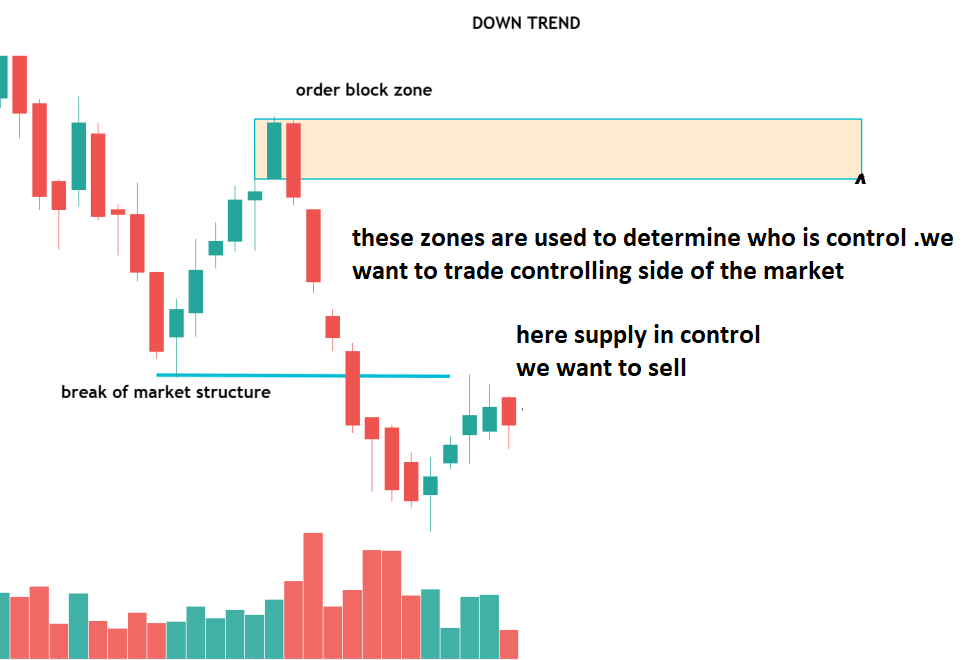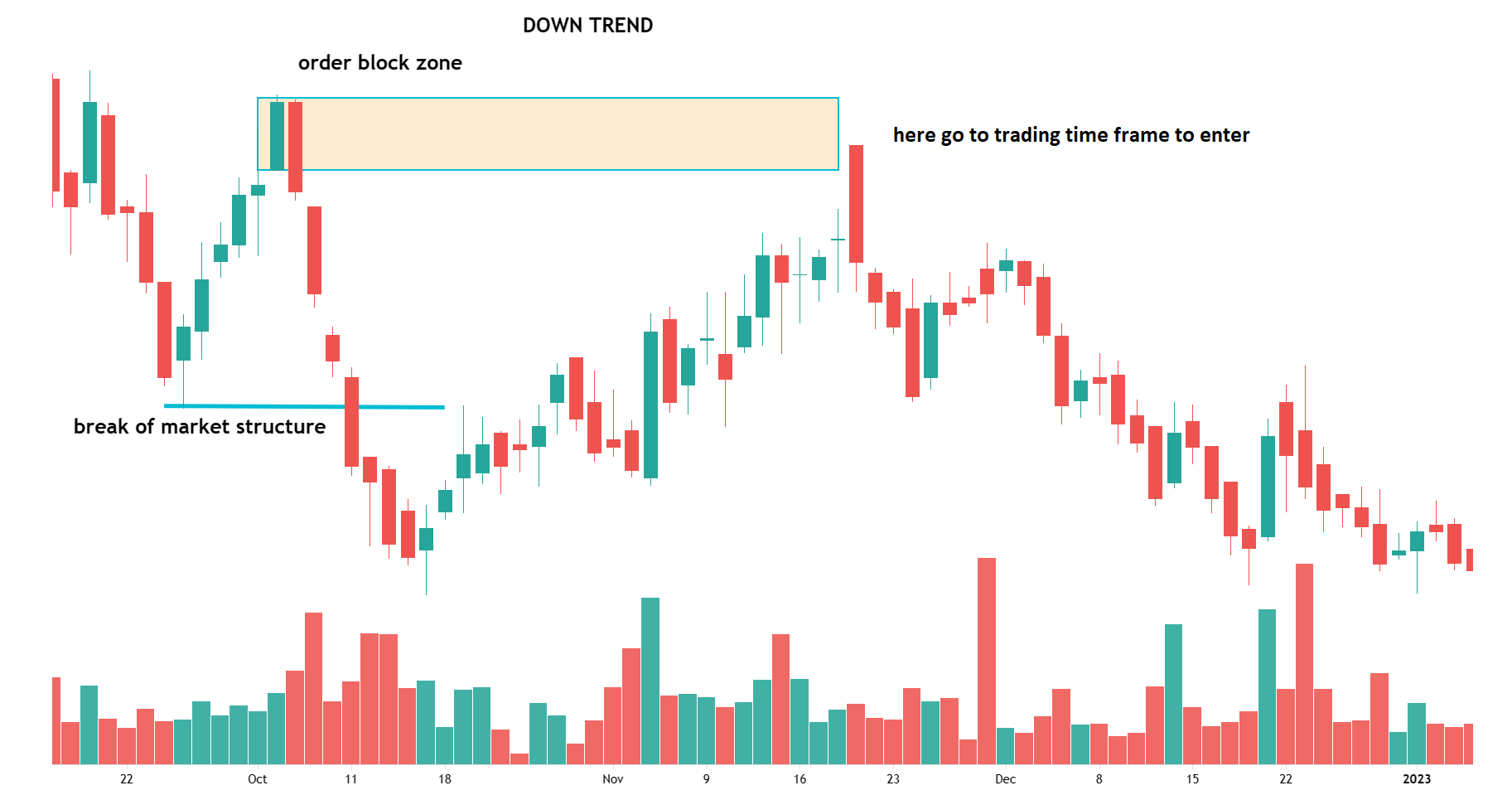 Step2: Finding Order Block in multiple time frames
Trading professionals often use multiple time frame studies to understand the general market trend and spot possible trading opportunities.
You must first decide which time frames are important for your analysis to carry out a multiple time frame order block analysis. To identify the general trend, for example, you might begin with a higher time frame, like a daily chart. Then, you might switch to a smaller time frame, like the 1-hour or 30-minute chart, to find more precise levels of support and resistance.
If you have identified order blocks across multiple time frames, you can utilize this knowledge to make your trading decisions. A lower time frame order block at a key level of support, for example, would indicate that the market is likely to reverse direction and move upward. On the other hand, a higher time frame order block at a significant level of resistance may indicate that the market is likely to continue moving lower.
The market is fractal in nature, and depending on the market structure, we know our bias and its change from time to time. Suppose a higher time frame (HTF) IN CORRECTION is a bullish trend. Then, in a lower time frame, it's a bearish trend. depend open both time frames we have to select which entry method to apply and also whether to risk entry vs confirmation entry
Trend cont. entry or

Trend reversal from higher time frame zone

AGGRESSIVE vs. confirmation entry
Note: – IF TRADING ANY REVERSAL FROM a higher time frame, then confirmation entry is safe. avoid entry in the tested order block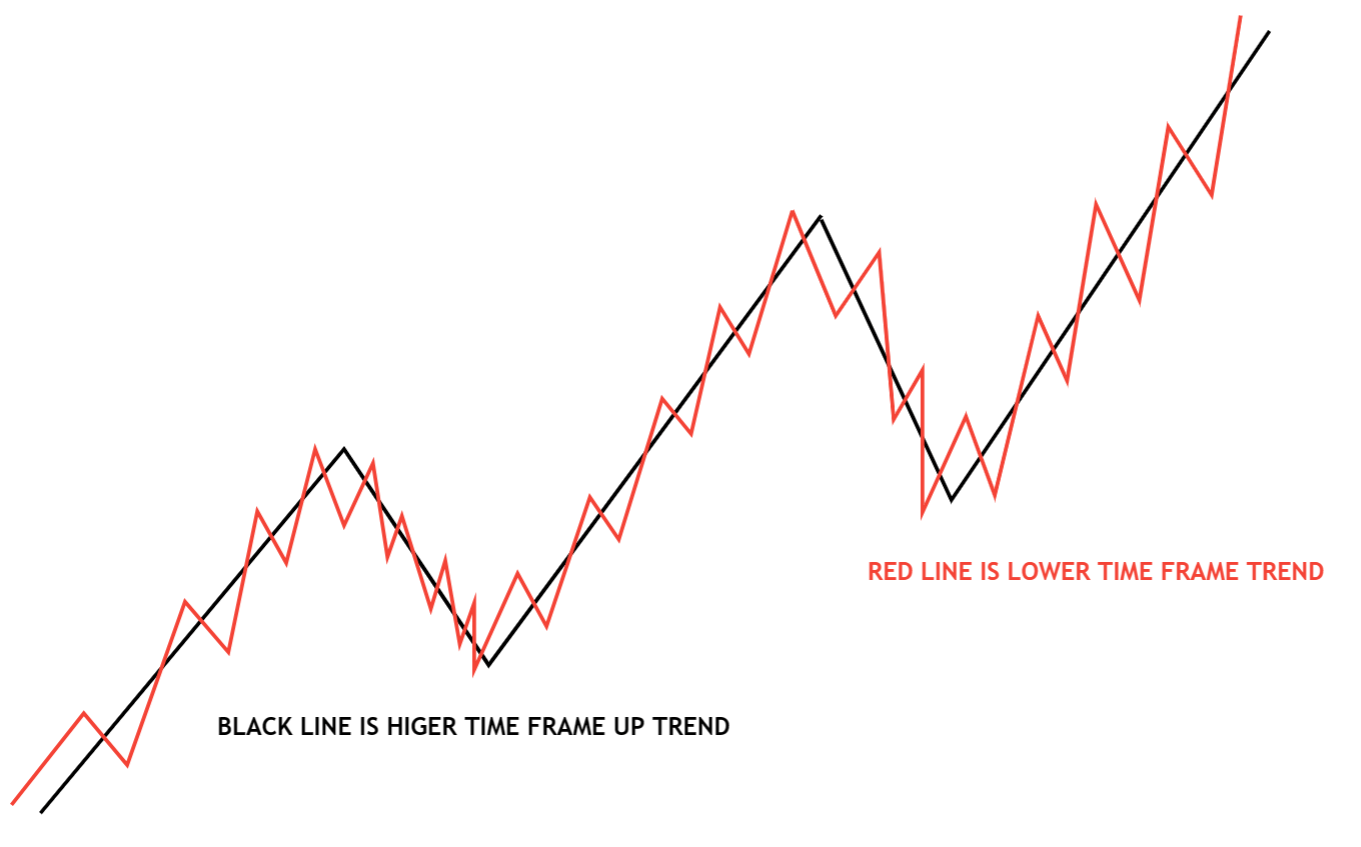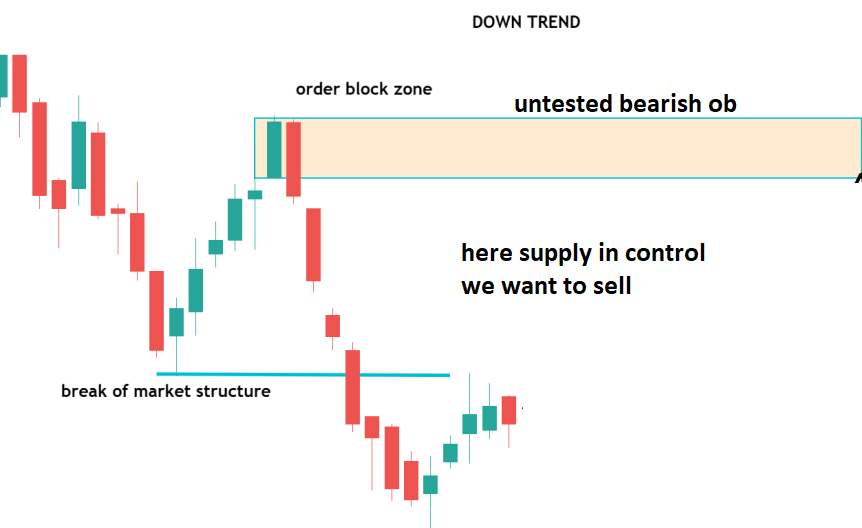 Step3: Identify smart money trap in Order Block
This is done by either
Liquidity hunting

Inducement
Below is an example of one type of liquidity hunting
Liquidity hunting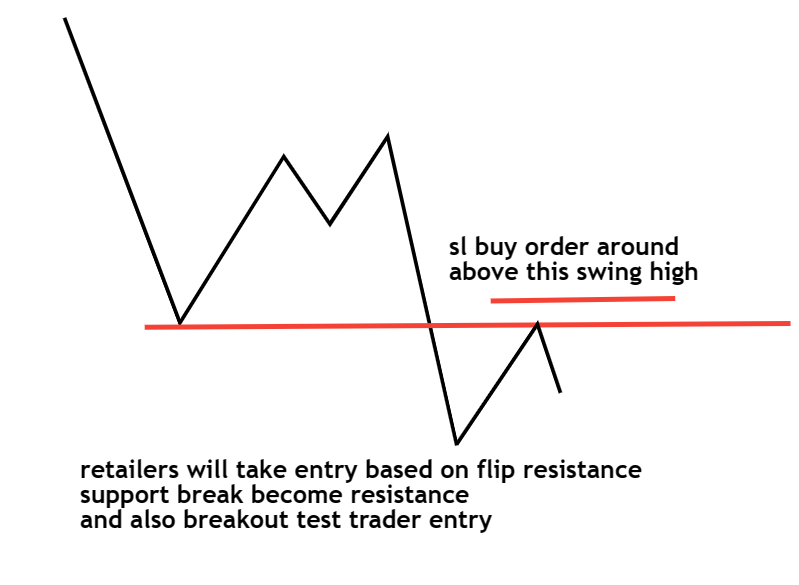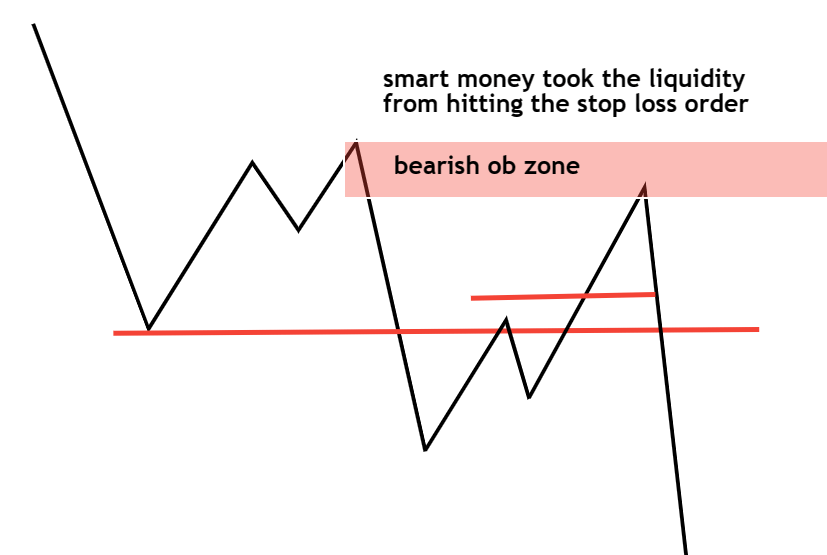 Sometimes, a fake order block is formed by smart money to induce traders to take an entry, and then they hit their stop loss to take liquidity. here is one example.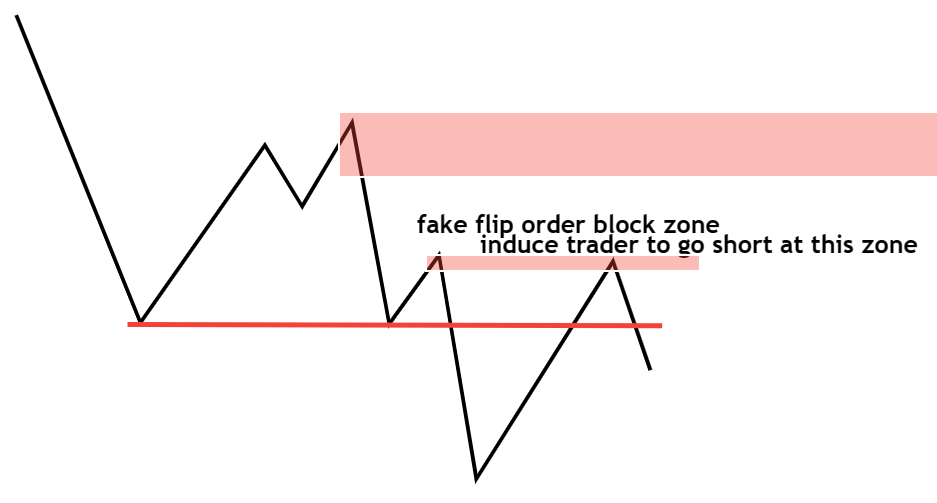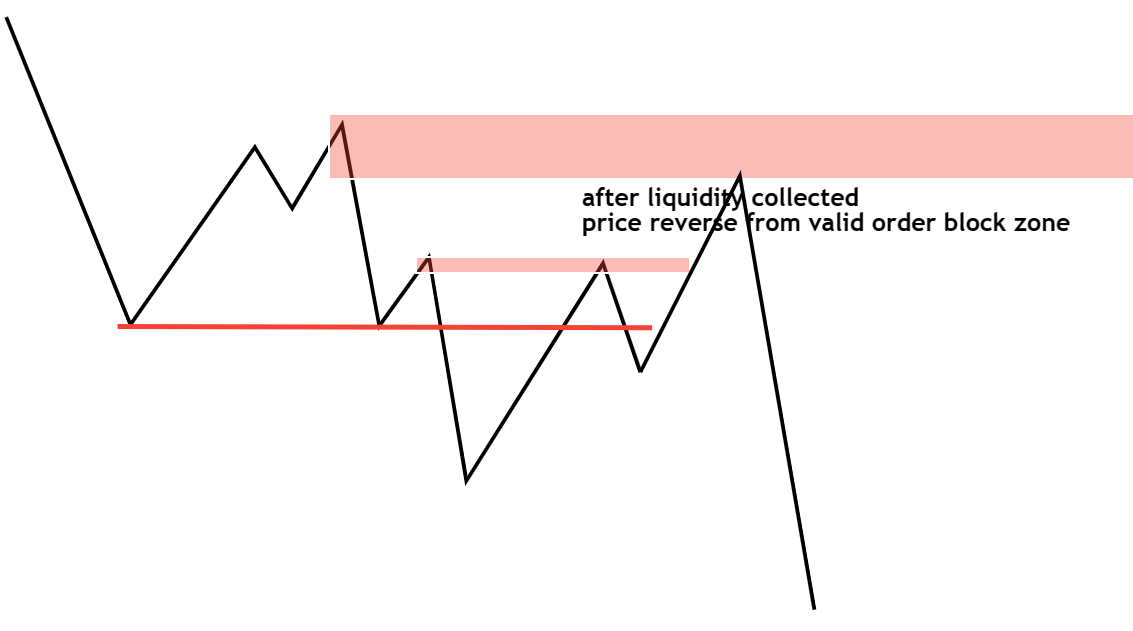 Step4: Smart Money Sniper Entry in Order Block
First, decide which types of trade because depend on open trend entry technique change.
Trend continuous entry

Trend reversal entry

Range reversal entry
Trend Continuation

Trend Reversal

Range Reversal

Choch

Sd flip

Aggressive entry

Choch

Sd flip

Choch

Sd flip
First, understand Aggressive entry vs confirmation entry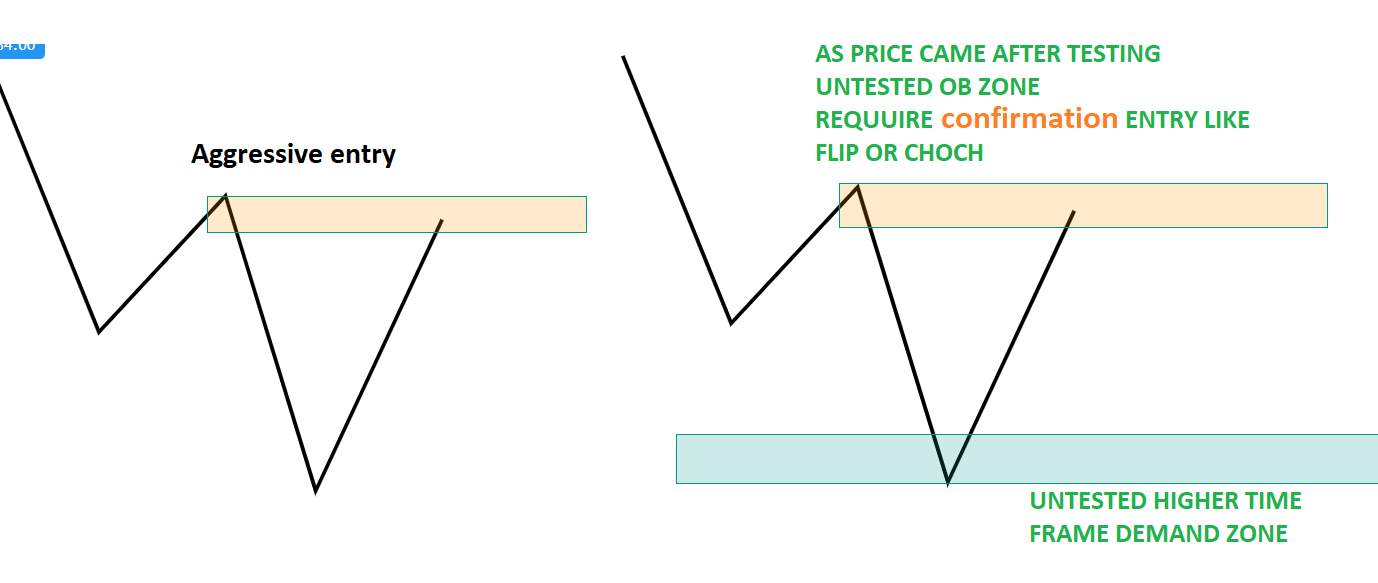 Continuous Order Block Entry Method (aggressive entry)
Note trend continuous entry. Find an untested bearish order block in a downtrend or an untested bullish order block in an uptrend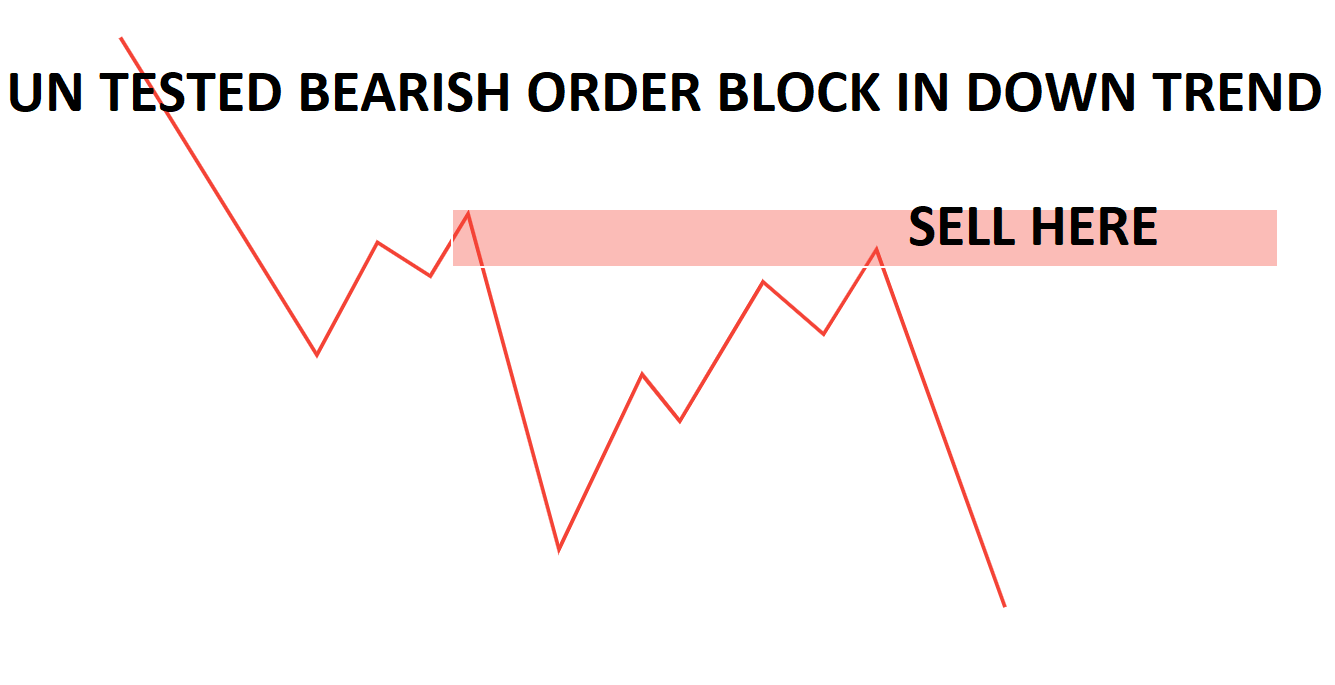 As you can see, the market is in a downtrend, making a lower low and lower high. Valid bearish order blocked formed in the downtrend. Wait for any bearish entry at the bearish order block zone.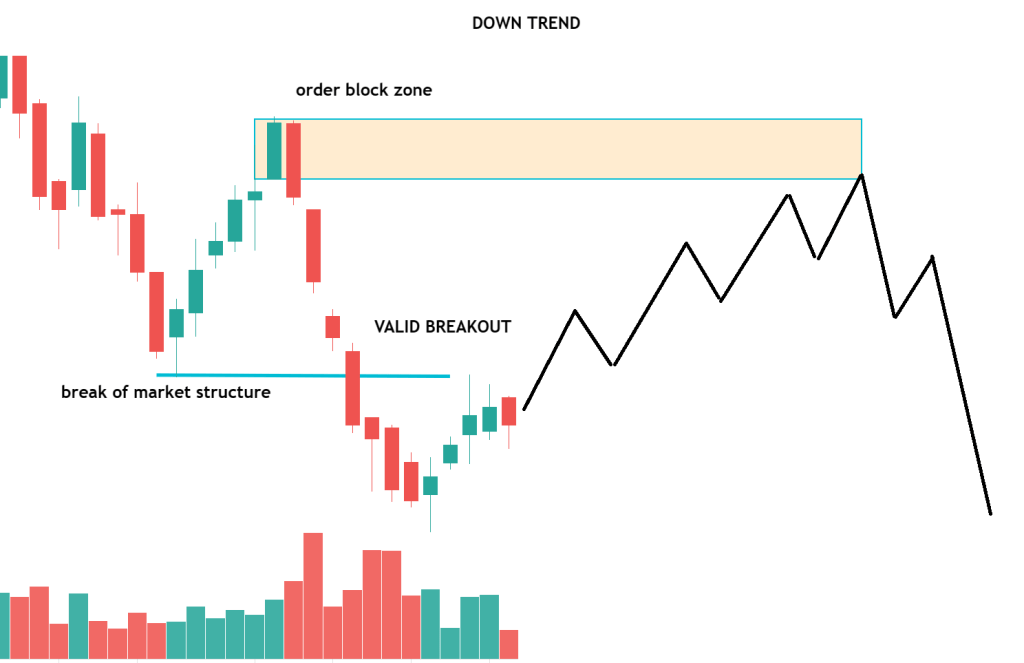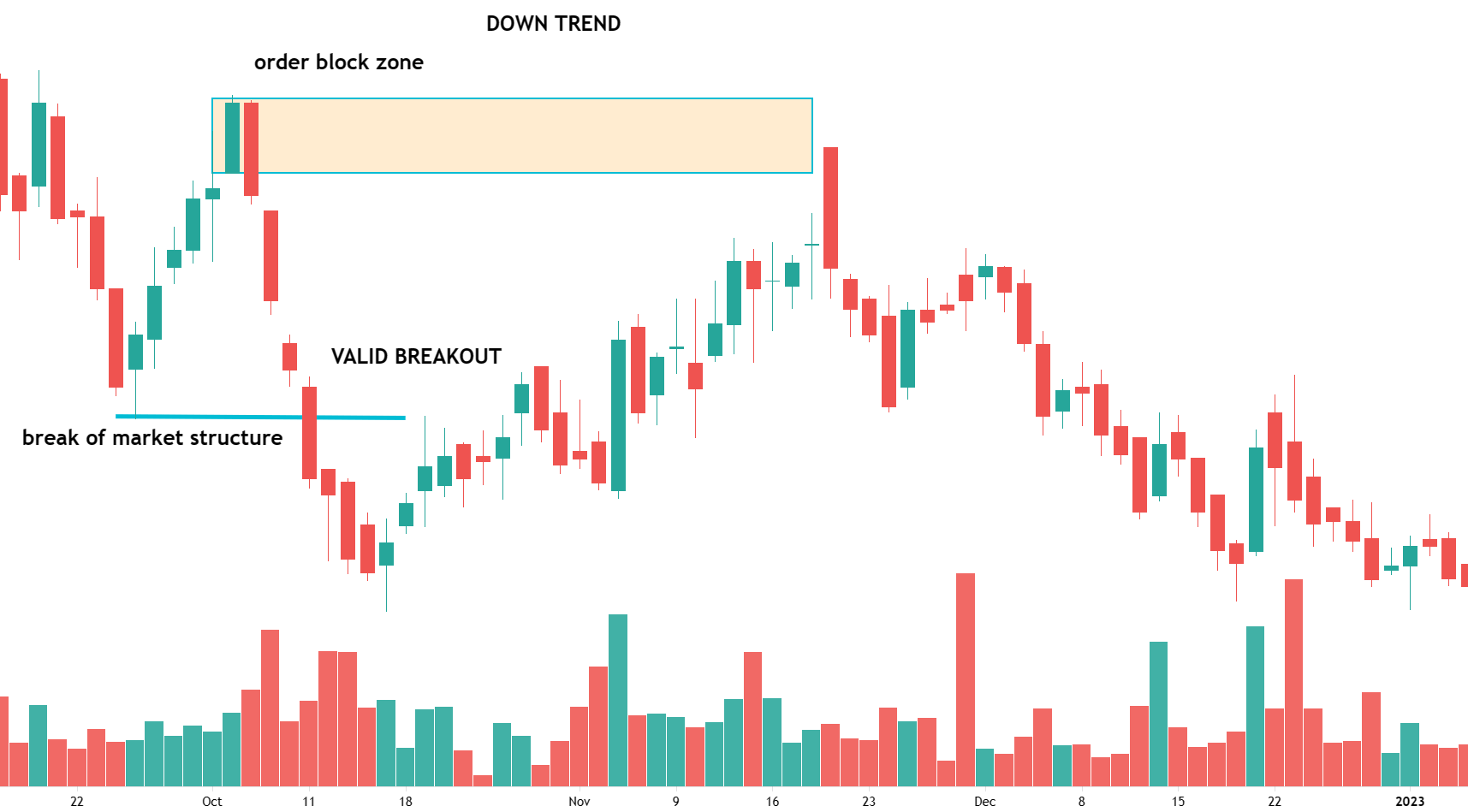 Sd/ds Flip confirmation entry model
Sd flip is a reversal confirmation entry method. It involves identifying untested strong supply and demand zones on a price chart and waiting for a price flip or change in the trend to occur at this untested zone, which can signal a potential bounce or trend reversal. When this structure is broken, it can indicate a shift in market sentiment and can provide opportunities for traders to enter a current form untested supply-demand zone.
Supply Demand Flip (bullish reversal)
Price created a new low (market structure bearish supply in control)

It tested the last supply zone (OB zone), but the price took a technical bounce from the supply zone instead of actual selling, but could not create a new lower low in the downtrend.

Instead of creating a new lower low in the downtrend, it broke through the last supply zone. Demand in control leaves a demand zone behind.

When the price retests the demand zone, we will buy
CAN ENTER IN TREND CONTINUOUS OR AS WELL AS REVERSAL FORM HTF UNTESTED OB ZONE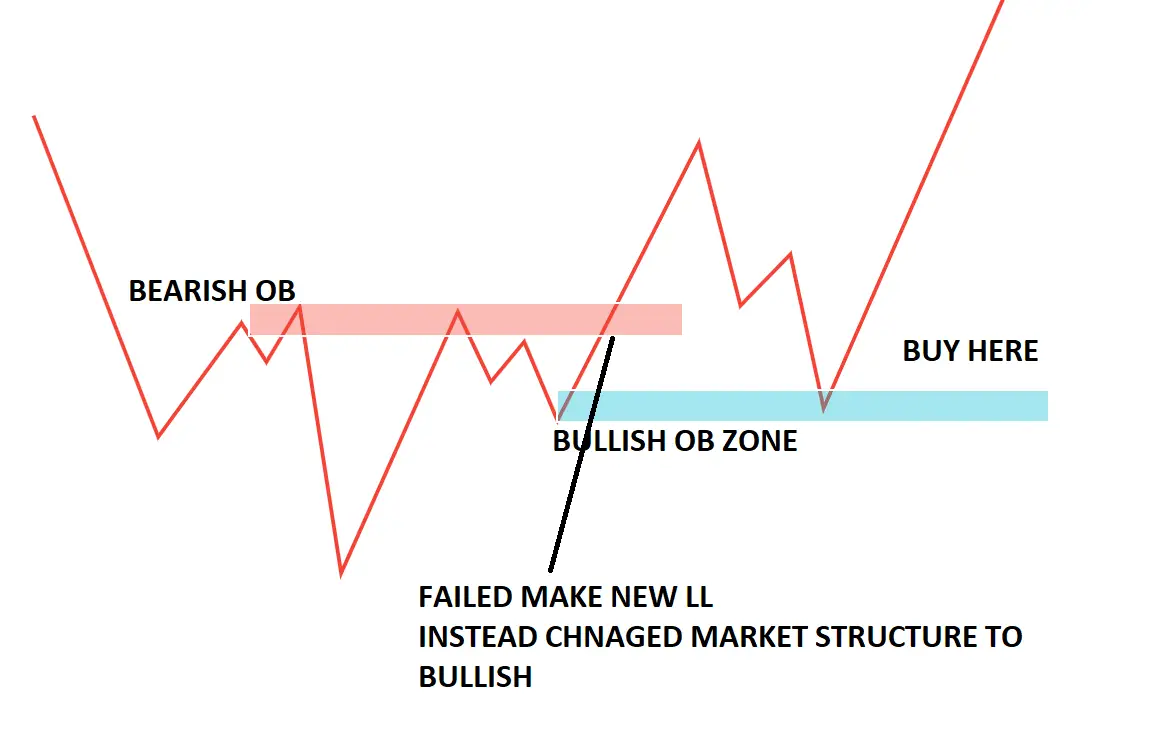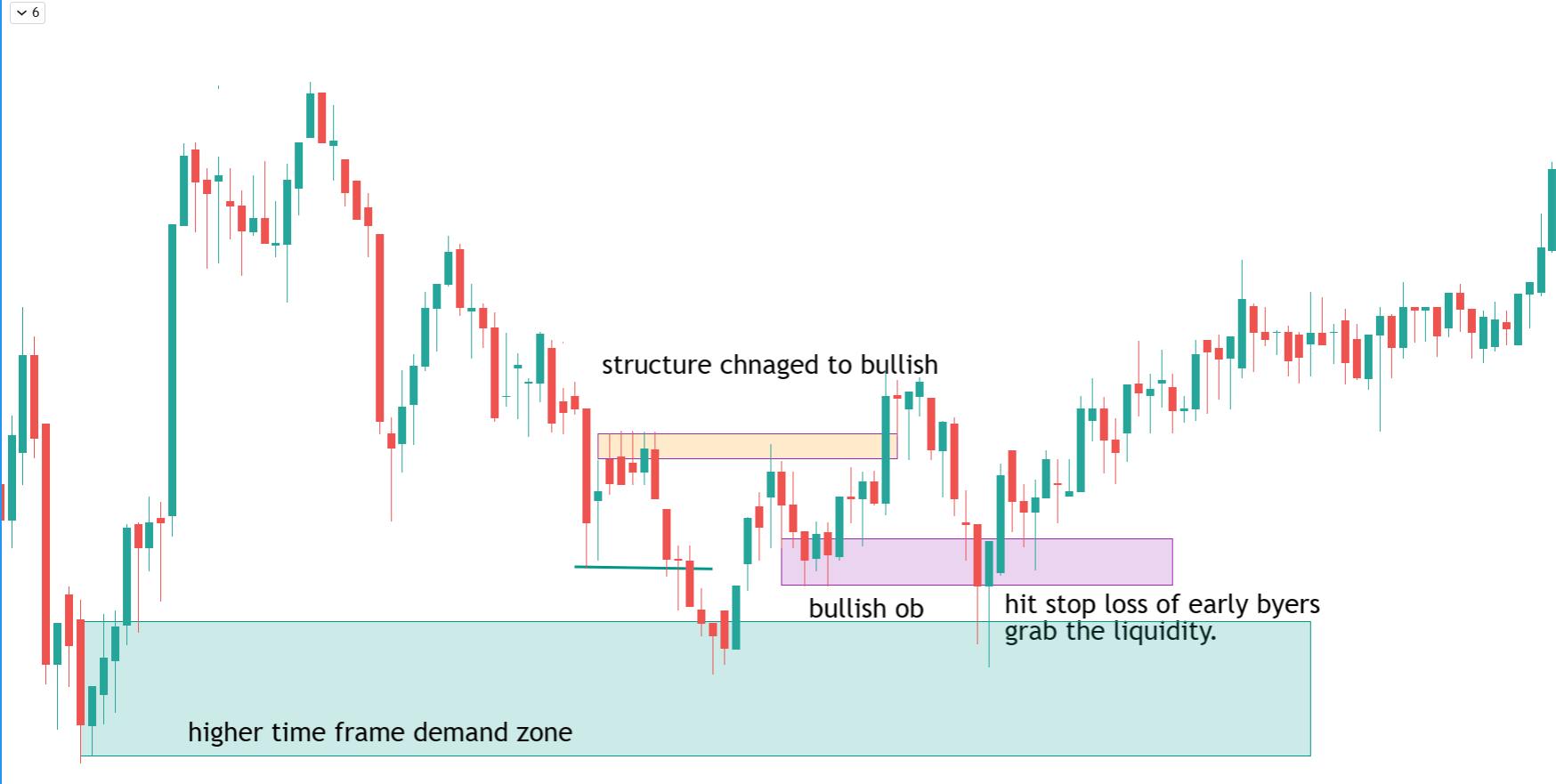 CHOCH IS A REVERSAL CONFIRMATION ENTRY MODEL.
It involves identifying untested strong supply and demand zones on a price chart and waiting for a change in the trend to occur at this untested zone, which can signal a potential trend reversal. When this structure is broken, it can indicate a shift in market sentiment and can provide opportunities for traders to enter a current form untested supply-demand zone. Generally, two types of entry can take
WITH INDUCEMENT

WITHOUT INDUCEMENT
Change of Character
Price faces an untested higher time frame demand zone or untested demand zone for trend continuation entry. Then, the price broke the untested supply zone instead of bouncing or reversing,

Strong move and beak of market structure (Strong demand IN downtrend) demand in control leaving a demand zone behind.

TEST OF OB. When the price retests the demand zone, we will buy.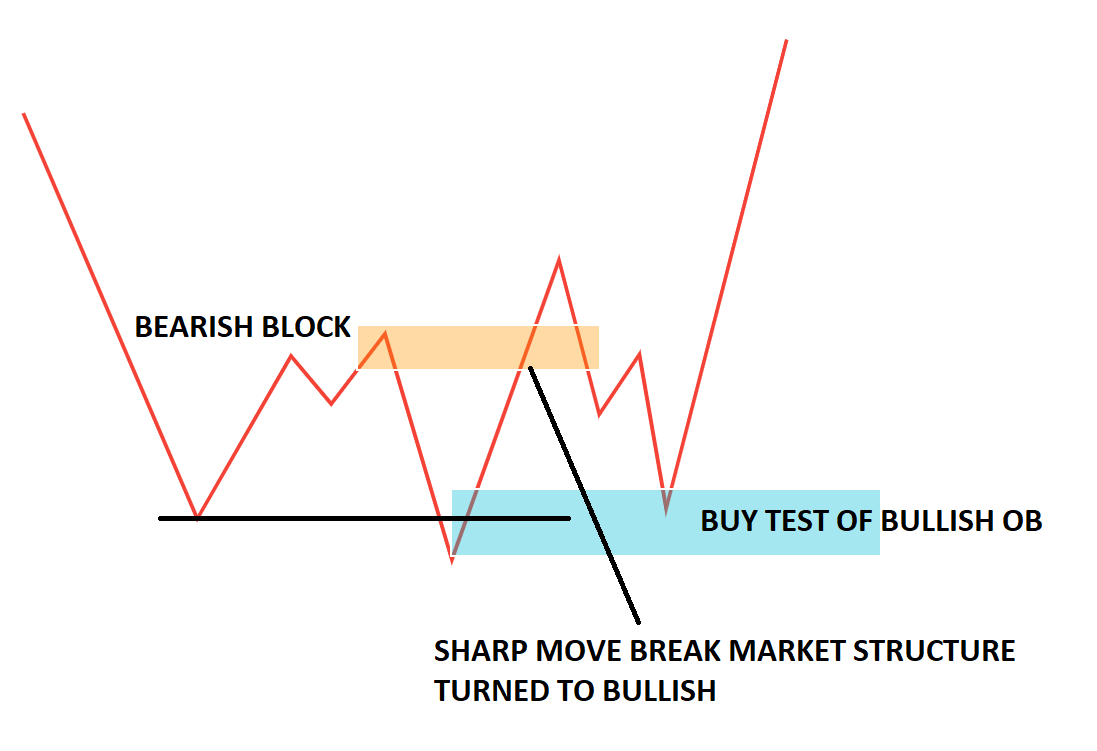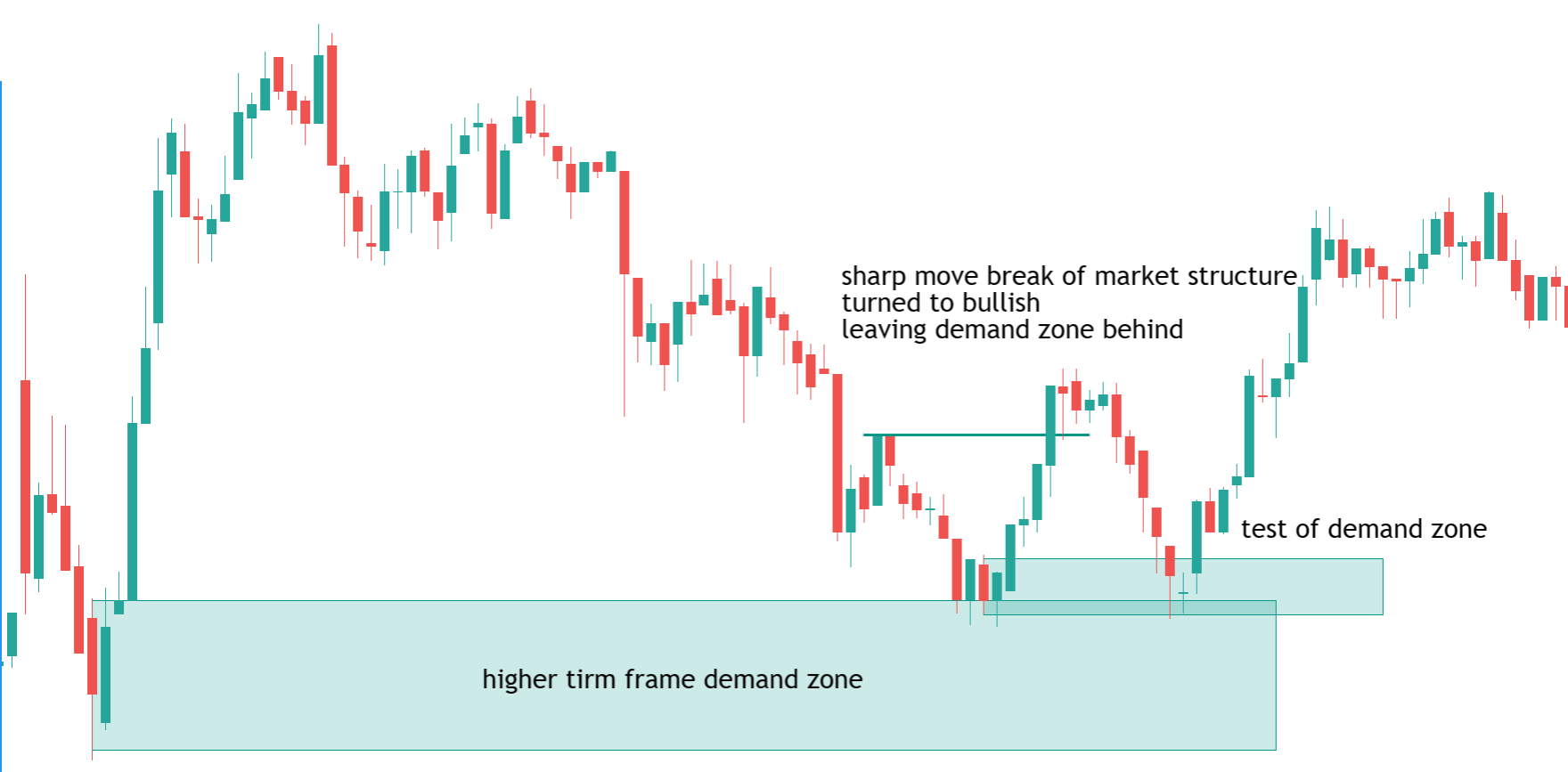 Sniper Order Block Entry Trading Strategy Summary:
The "Sniper Order Block Entry" trading strategy seems to combine different trading concepts, mainly from the field of price action trading. While there isn't a standard definition of the "Sniper Order Block Entry" in professional trading literature, we can infer its components based on the typical use of the terms:
Order Block: In trading, an order block is typically a significant block of orders placed at a particular price level. Traders often look for these levels as areas where there could be a lot of buying or selling interest. In some trading strategies, an order block might refer to a range or a zone where institutional traders are believed to be entering or exiting the market, which could lead to significant price movements.
Sniper Entry: This term suggests a very precise entry point. A "sniper" strategy implies waiting patiently for the perfect setup and only executing when certain criteria are met with high accuracy. This entry often looks for high-probability setups that align with multiple factors, indicating a potential price move.
Combining these terms into a strategy, a "Sniper Order Block Entry Trading Strategy" would likely involve identifying order blocks where significant market interest is expected and entering the trade with a precise entry mechanism that ensures high probability and good risk management.
Here's a step-by-step approach you might take when utilizing this strategy:
Step 1: Identify Potential Order Blocks
Historical Levels: Look at past price levels where the price has made significant moves. This could be on any timeframe, but higher timeframes (like daily or weekly) might offer stronger levels.
Consolidation Zones: Areas where price has consolidated before breaking out can indicate an order block.
Volume Analysis: Using volume data to find price levels where high transaction volumes have occurred could help identify these blocks.
Step 2: Wait for Price Action Confirmation
Rejection Candles: Look for price action signals such as pin bars, engulfing candles, or other rejection patterns that indicate the price is respecting the order block level.
Confirmation: Some traders may wait for additional confirmation, such as a smaller timeframe trend reversal signal.
Step 3: Sniper Entry
Precise Entry Point: Determine an exact entry point, perhaps using a lower timeframe to fine-tune the entry.
Stop Loss: Set a stop loss just beyond the order block or the price action confirmation to minimize risk if the market goes against the trade.
Risk Management: Calculate the position size based on the distance to the stop loss to manage the risk appropriately.
Step 4: Trade Management and Exit
Take Profit: Set take profit levels based on key support/resistance levels or a certain risk-reward ratio.
Trailing Stop: Some traders use a trailing stop to capture more profits if a move runs in their favor.
Step 5: Post-Trade Analysis
Review: After the trade, review the entry, management, and exit to learn and improve the strategy over time.
Additional Considerations:
Backtesting: Before applying this strategy with real money, it's crucial to backtest it on historical data to see how it would have performed.
Economic Calendar: Be aware of news events impacting the financial markets, as these can override technical analysis.
Market Sentiment: Understand the broader market sentiment, as order blocks may not hold if the sentiment is strongly bullish or bearish.
Remember that any trading strategy should be tested and adapted to fit individual risk tolerances and trading styles. There are no guarantees in trading, and what works for one trader may not work for another. Always practice sound risk management and consider using a demo account to practice new strategies before applying them in live markets.
Note this is the 5th part of the smart money concept. Do read our previous article.
Here, in this article, I try to explain the Sniper Order Block Entry Trading Strategy. I hope you enjoy this Sniper Order Block Entry Trading Strategy article. Please join my Telegram Channel and YouTube Channel as well as my Facebook Group to learn more and clear your doubts.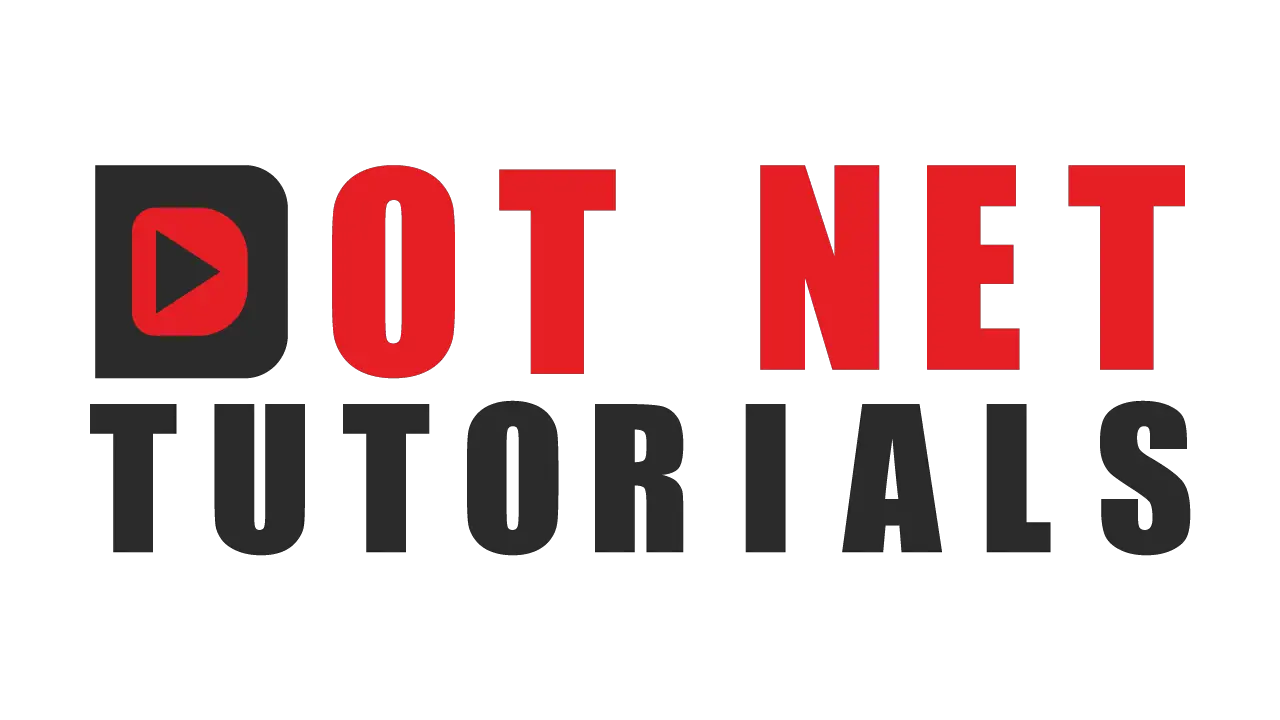 About the Author: Pranaya Rout
Pranaya Rout has published more than 3,000 articles in his 11-year career. Pranaya Rout has very good experience with Microsoft Technologies, Including C#, VB, ASP.NET MVC, ASP.NET Web API, EF, EF Core, ADO.NET, LINQ, SQL Server, MYSQL, Oracle, ASP.NET Core, Cloud Computing, Microservices, Design Patterns and still learning new technologies.