Back to: Trading with Smart Money
How to Trade Bull Flag and Bear Flag Pattern in Trading
In this article, I am going to discuss How to Trade Bull Flag and Bear Flag Patterns in Trading. Please read our previous article where we discussed the Top 7 Chart Patterns in Trading That Every Trader Needs to Know.
How to Trade Bull Flag and Bear Flag Pattern in Trading?
The bear flag pattern is a popular continuation price pattern used by technical traders within the financial markets to determine trend continuations. In this article, we will discuss bull flag trading opportunities, and the topic we will cover:
Definition of a bear flag pattern
How does it work?
How to identify a bearish flag?
Element of the flag pattern
How to Trade Bull Flag Pattern?
Bear flag vs bull flag
Bull flag vs pennant
What is a Bullish Flag Pattern in Trading?
The Bullish Flag Pattern is a trend continuation chart pattern. A bull flag pattern is a chart pattern that occurs when a stock is in a sharp strong uptrend. It is called a flag pattern because when you see it on a chart it looks like a flag on a pole and since we are in an uptrend it is considered a bullish flag.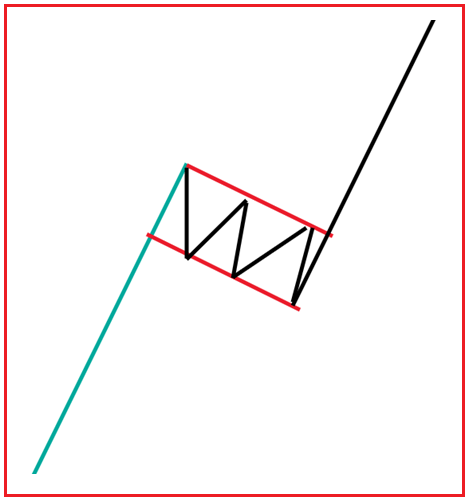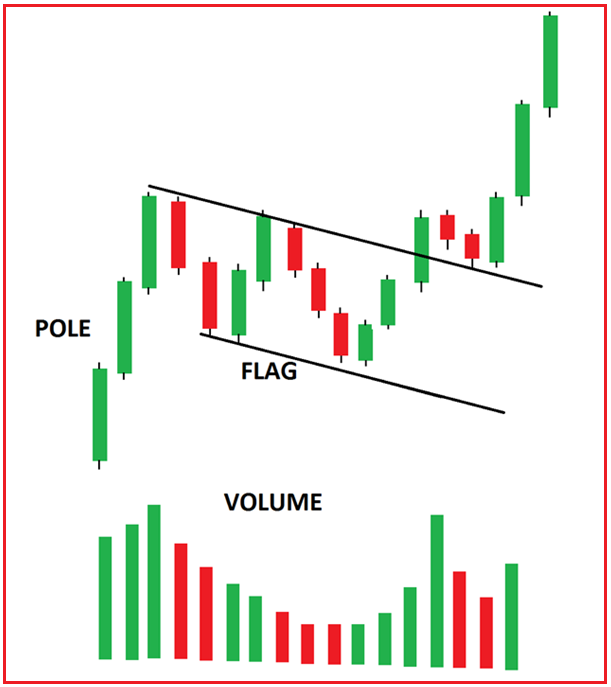 Pattern Structure
Defines a Flag pattern using two criteria: pole and flag
Pole: Look for a sharp strong trending move. This means the range of the candles is more bullish than usual and they tend to close near the highs. usually shown by large body candles. and strong volume in the same direction.
Flag: weak pullback AFTER strong sharp move, usually shown by small-bodied candles. The flag is made up of two parallel lines. The pullback should consist of smaller range candles (compared to the earlier move). The "tighter" the range, the more likely the market will breakout higher.


Logic
After the strong move higher, the market becomes overbought so the market needs to take a "rest". Here's where you can expect a potential Bull Flag to form. A small break before the market continues moving in the same direction.
Volume Description
Steep price advance preceding the formations on heavy volume.

Dramatic drop-off inactivity as the consolidation patterns form and. Volume should decrease as the Flag pattern forms 

Then the sudden high-volume activity on the upside breakout
Entry and Stop Loss
Trade the breakout of the flag in the direction of the pole. Stop-loss should be below the flag support in a bull flag breakout entry. Look for confluence factor-like 20ema or any sr line
Target
Measuring technique: Measure the height of the flag pole. Then, extend it from the lowest point of a bullish flag
How to Trade Bull Flag Pattern?
Price is in sharp up move on high relative volume (ACT AS POLE)

Prices consolidate at or near highs with a defined pullback pattern like flag or pennant or tight range.
Buy when prices breakout above the consolidation pattern on high volume.
Place stop orders below the bottom of the consolidation pattern.
Targets should be at least 2:1 risk/reward


Bull Flag vs Bear Flag
A bear flag is identical to a bull flag except the trend will be to the downside.
In the next article, I am going to discuss How to Become a Successful Trader. Here, in this article, I try to explain How to Trade Bull Flag and Bear Flag Patterns in Trading. I hope you enjoy this Bull Flag and Bear Flag pattern in the Trading article. Please join my Telegram Channel and YouTube Channel as well as my Facebook Group to learn more and clear your doubts.