ASP.NET Core Blazor Tutorial
In this ASP.NET Core Blazor Tutorials series, I am going to discuss all the basic, intermediate and advanced concepts of Blazor. This Blazor Tutorial will help you to build rich data-driven web applications. Nowadays, Blazor is gaining great attraction and if you want to stay in the market as a .Net developer, then it is very important for you to have Blazor in your tool kit.
This Blazor Tutorial is for whom?
These ASP.NET Core Blazor Tutorials are designed for beginners as well as professionals developers who want to learn Blazor step by step. Here, in these ASP.NET Core Blazor Tutorials, we provide a hands-on approach to the subject with step-by-step program examples that will assist you to learn and put the acquired knowledge into practice.
How data-driven web applications developed today?
Nowadays, in order to develop a data-driven web application, we need two things. Server-side development as well as client-side development. For server-side development, we generally use server-side programming languages such as C#, Java, PHP, etc. And for client-side development, we generally use JavaScript frameworks such as Angular, React, Vue, etc.
In order to become a full-stack developer and to stay in the market, we need to learn a client-side programming language (such as Angular, React, Vue, etc.) as well as a server-side programming language (such as C#, Java, PHP, etc.). Now the question is, why should we learn 2 different sets of programming languages and frameworks.
Can we use C# both for server-side and client-side development?
Yes, we can use C# for both client-side as well as server-side development and this is possible because of ASP.NET Core Blazor. With the introduction of Blazor, now you can develop client-side web user interfaces using C# instead of JavaScript. The C# code can be executed both on the server as well as in the client browser.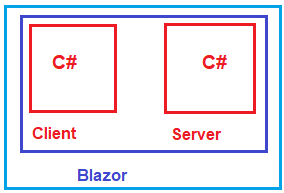 What is Blazor?
Blazor is a free, open-source Web framework that allows us to create interactive applications in C# that will be used mainly through a web browser.
Historically, if we want to create an application that runs on a browser, we were forced to use JavaScript. Now, thanks to web assembly,  we can use a programming language in the browser i.e. we can use C# language. And Blazor is the framework that makes it easy to write C# code in the browser using a component. The question is what advantages Blazor brings us or in general using .NET in the browser.
Advantages of Blazor framework :
The following are the most important advantages of using the Blazor framework as of my consideration
.NET Ecosystem for our front-end application.

C# (LINQ and asynchronous programming)

Ability to share the code between front-end and back-end

Working with components
Note: We will explore the above points in detail throughout this course.
Not all Blazror applications are the same. There are two hosting models which define how your application will work. These are the client-side model i.e. Blazor web assembly and the server-side model. Here, you will learn how to develop .NET Application and run it on a browser. We will also see how to interact with a database using Web APIs in ASP.NET Core.
What you will learn from ASP.NET Blazor Tutorial
At the end of this ASP.NET Core Blazor Course, you will learn
How to Develop web applications using C# and Blazor

How to use Azure DevOps to deploy the Blazor applications

How to Create a Database using Entity Framework Core

How to implement Security by creating a user system that uses roles
Who this course is for:
The C# developers who want to build complex web applications

The JavaScript developers who do not want to use JavaScript anymore

The Back-End developers who want to use C# on the Front-End
What you should have to learn ASP.NET Core Blazor?
You should have basic knowledge of HTML, CSS, JavaScript, and fundamental concepts of C# (variables, functions, loops, etc. ). If you know ASP.NET Core MVC then it is helpful to you but it is not mandatory. We are going to discuss all the required concepts of ASP.NET Core Blazor which are required for this course.
Blazor- Basics
Blazor Server App
ASP.NET Core 6 Online Training
Popular ASP.NET Core Blazor Books