Back to: Java Tutorials For Beginners and Professionals
Java Programming Books for Beginners: Where to Start?
Beginner Java learners may find it quite confusing to understand how code works and how to start writing their own code. Thankfully, high-quality code never depends on memorizing syntax or algorithms but depends on understanding the general concepts and developing the right problem-solving skills that enable you, the programmer, to design and write the most elegant code solution for the problem at hand.
Getting the hang of syntax comes later on with the assistance of sources such as Java programming books. There are many free resources and books available online. I've come across the post published by CodeGym and got you the top seven books along with their descriptions and download links.
Top 7 Free Java Programming Books for Beginners

Head First Java

Core Java Volume I — Fundamentals

Effective Java

by Joshua Bloch

Learning Java by Building Android Games: Learn Java and Android from scratch

Conclusion
Top 7 Free Java Programming Books for Beginners
This list contains the best Java books I found online for your learning journey. I created this list so that Java learners with different learning preferences can find the most suitable book according to their already acquired knowledge and skills.
A Brain-Friendly Guide: Head First Java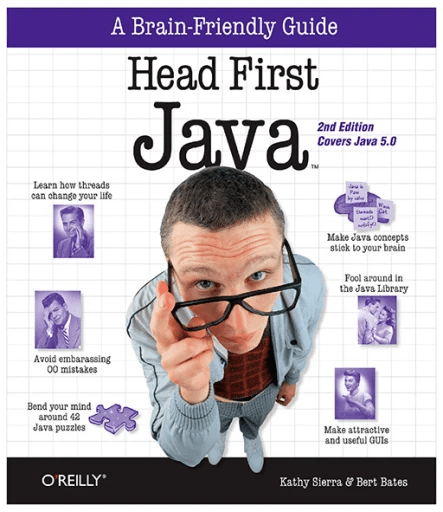 A Brain-Friendly Guide: Head First Java
The first choice by Sierra & Bates is the best book to learn Java. HFJ, as Java learners call it, is great as an intro to the language and covers all the basics
In addition to explaining the basic concepts such as OOP, HFJ also uses real-world examples. Diagrams and schemes are another pluses that makes understanding Java logic much easier.
Head First Java will help you understand the fundamentals of Java and get a grasp of the main concepts. However, after reading this book, you'll not start coding right away. You still will need some additional resources.
Pros: Engaging style, real-world examples, interesting quizzes & puzzles.
Cons: Not suitable to dive into coding immediately.
Java Concurrency in Practice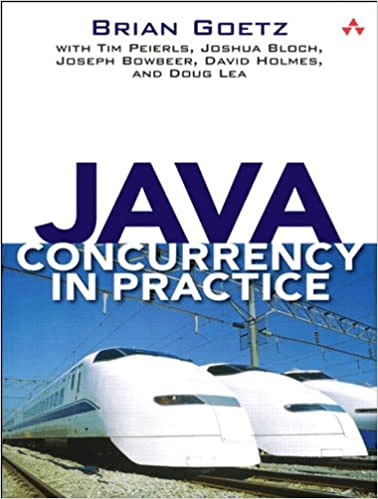 Java Concurrency in Practice
Java Concurrency in Practice is often overlooked, but, in my opinion, it is essential for all Java learners. It covers Threads, which is a fundamental topic in Java.
Understanding multithreading and concurrency may seem too advanced at the first read, but I advise you to take your time with this book. The knowledge you will come out with will set you apart and give you an edge as a beginner in Java.
Pros: Covers a fundamental concept in Java, teaches techniques for building classes safe for threading.
Cons: Focuses on Java 5.0.
Java: The Complete Reference

Java: The Complete Reference — Eleventh Edition
As the name of this book indicates, it is a complete reference for Java. So, while you may be surprised at the size (1000 pages), don't let that intimidate you. You absolutely can finish it and get all of your needs about core Java from it.
The language is easy to understand and every chapter details the fundamental concepts of Java with good examples. If you're going to start with one book, this should be your choice!
Pros: Easy to understand, tests for each chapter, thoroughly covers Java core.
Cons: The reader has to have a basic understanding of Java.
Core Java Volume I — Fundamentals

Core Java: Volume I — Fundamentals
Another huge Java book that is perfect for beginners whether you want to read it from start to finish or keep it as a reference and use it whenever you need it. Core Java: Volume I offers a detailed explanation of Java and its main concepts and enables you to start coding immediately.
The chapter's arrangement of this book makes it easy to follow even if you're not going to finish it all at once as each chapter is dedicated to a specific subject. So, whenever you want, you can get straight to the topic you're looking for.
Pros: Great as a reference, covers basics & generics, in-depth explanations.
Cons: A few topics are less detailed than the rest.
Effective Java: Third Edition

Effective Java: Third Edition
This is not exactly the perfect book for beginners as it requires having some knowledge of Java programming. This is why I recommend it as a guide to Java best practices.
Effective Java provides you with the best 78 protocols and practices of Java coding. Each section of the book focuses on a specific topic like Methods, Concurrency, and Generics. So, you won't get lost if you're looking for a specific point to read about.
Pros: Teaches Java's best practices, Helps you improve your code, Offers concise ways to implement best practices.
Cons: Requires experience with Java.
Learning Java by Building Android Games: Learn Java and Android From Scratch

Learning Java by Building Android Games
Android is the most popular open-source OS for mobile right now and Java is one of the most popular languages used to build apps for Android. This makes this book the perfect choice for you if your ultimate goal from learning Java is to become a mobile developer for Android.
Unlike other books, Learning Java by Building Android Games changes its complexity level as your knowledge advances with its chapters. The book takes you up through six stages at the end of each one, you get a task to develop your own game using what you've learned.
Pros: Provides a practical approach to mobile development, clear and concise progress
Cons: Limited to game development
Java Performance: The Definitive Guide

Java Performance: The Definitive Guide
My last selection, Java Performance, covers more complex topics that focus on optimizing the performance of your Java code. While not recommended for complete beginners, this book is so well-written and goes into important details that I had to include it on my list.
So, my advice would be: become familiar with Java programming before reading this book, but definitely read it!
Pros: Well-written, In-depth information, Focuses on improving the performance of apps
Cons: Not for beginners.
Conclusion
You will find that Java programming books in this list are, to a great extent, ordered based on their complexity from lower to higher. This way, if you have no knowledge or experience with Java coding, it's easy to pick one of the first 2-3 books and move on down the list as you'd like the complexity to increase.