Top Reasons Why Businesses Should Deploy DaaS
Lots of organizations use clouds to modernize the infrastructure and expose data both externally and internally. DaaS can help companies cope with data with ease, and that's why this model is gaining popularity nowadays. By using it, services can:
Improve the agility of data workloads

Ensure security and reliability of their data

Reduce processing costs
What Is DaaS and Its Main Benefits
So, what is DaaS, and why this model is gaining popularity nowadays? Shortly, Daas is a term that is used for a data management strategy that uses the cloud to
Manage data

Storage data

Analyze data

Process data, etc
The key point of data as a service model is that data products can be provided to users on demand no matter how far the provider and consumer are. DaaS business model is beneficial for various organizations as it lets them buy, sell, or trade data.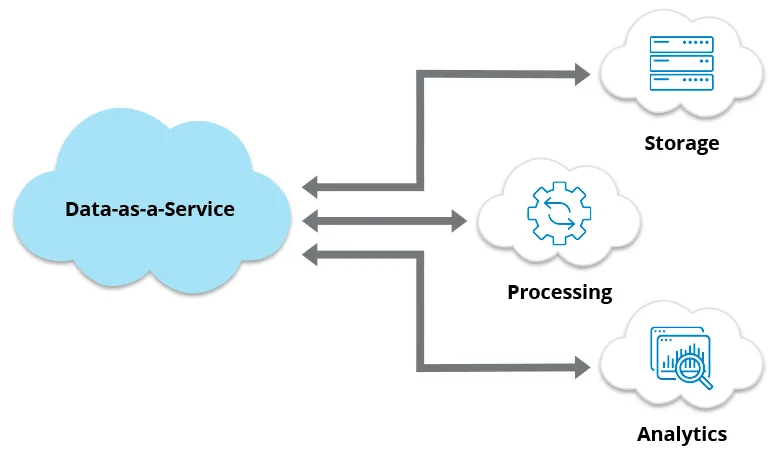 The main advantages of this model are:
high security and scalability

data quality

flexibility

agility

better user experience

automated maintenance

minimal setup time
Main Advantages of Data As Service in Business
If you still wonder why you should consider DaaS, take a look at the possible benefits your business can get from it:
Reduce Costs
DaaS lets you control your expenses by paying only for the resources you use. Hence, companies avoid unnecessary expenditures and scale requirements up or down, relying on the volume of users.
Higher Security
There are plenty of cases of data leakage as well as various cyber attacks. It's obvious that it's pretty simple to hack any personal computer or laptop. But, when it comes to DaaS, your company may be sure that all the data will be safe. All data is hosted in the cloud, and it's difficult to penetrate to a cloud system. Hence, the risks of security issues are really low.
Fast and Easy Deployment
When it comes to PCs, it may take months to implement new software and systems. However, DaaS provides you with agility and flexibility, and companies can get what they need in several hours. It's pretty easy to implement changes, add new users, or integrate new infrastructure.
No Data Loss
Traditional laptops can be damaged, and it will lead to lots of negative consequences. Unfortunately, not all of us have the duplicate of the essential data, and there are plenty of cases when people lose important information due to issues with their gadgets. But, using DaaS, you can be sure that your data is safe. It is stored in remote locations, protected, and can be easily accessed at any time. Hence, it doesn't matter whether your laptop is new or old. Nothing will change even if it suddenly dies.
Flexibility and Mobility
The DaaS model provides you with an opportunity to access data from anywhere at any time. Hence, it doesn't matter where your employees are, and it's easy to organize remote work. Consequently, it results in fewer expenditures and better productivity of the team. You don't need to spend money on rent, and your employees can work from the comfort of their homes.
On top of that, this model lets you implement changes easily and rapidly. For instance, you can immediately upgrade the software in case you realize that customers need some additional features.
Conclusion
All in all, DaaS can help your business save lots of money and effort by offering such benefits as:
Increased agility

Faster innovation adoption

Faster debugging

Higher security

Mobility and flexibility

Better collaboration inside the team

Faster deployment cycle

More options for remote work
By picking this model, you can be sure that your business will grow faster while you will save money on unnecessary expenditures. Still, there are some pitfalls that should be taken into consideration if you decide to deploy DaaS. Although this model adds flexibility and helps control the processes at ease, it still requires a well-defined IT strategy. Therefore, the best idea is to ask for professional assistance and get help from reliable services that offer help with DaaS implementation. Such companies thoroughly analyze your case and provide you with end-to-end solutions. They do not only suggest the best practices but also assist all along the way. By cooperating with such services, you will get the best solution, 24/7 support, and affordable prices.