Top 10 Best WordPress Templates for Education and Teaching Centers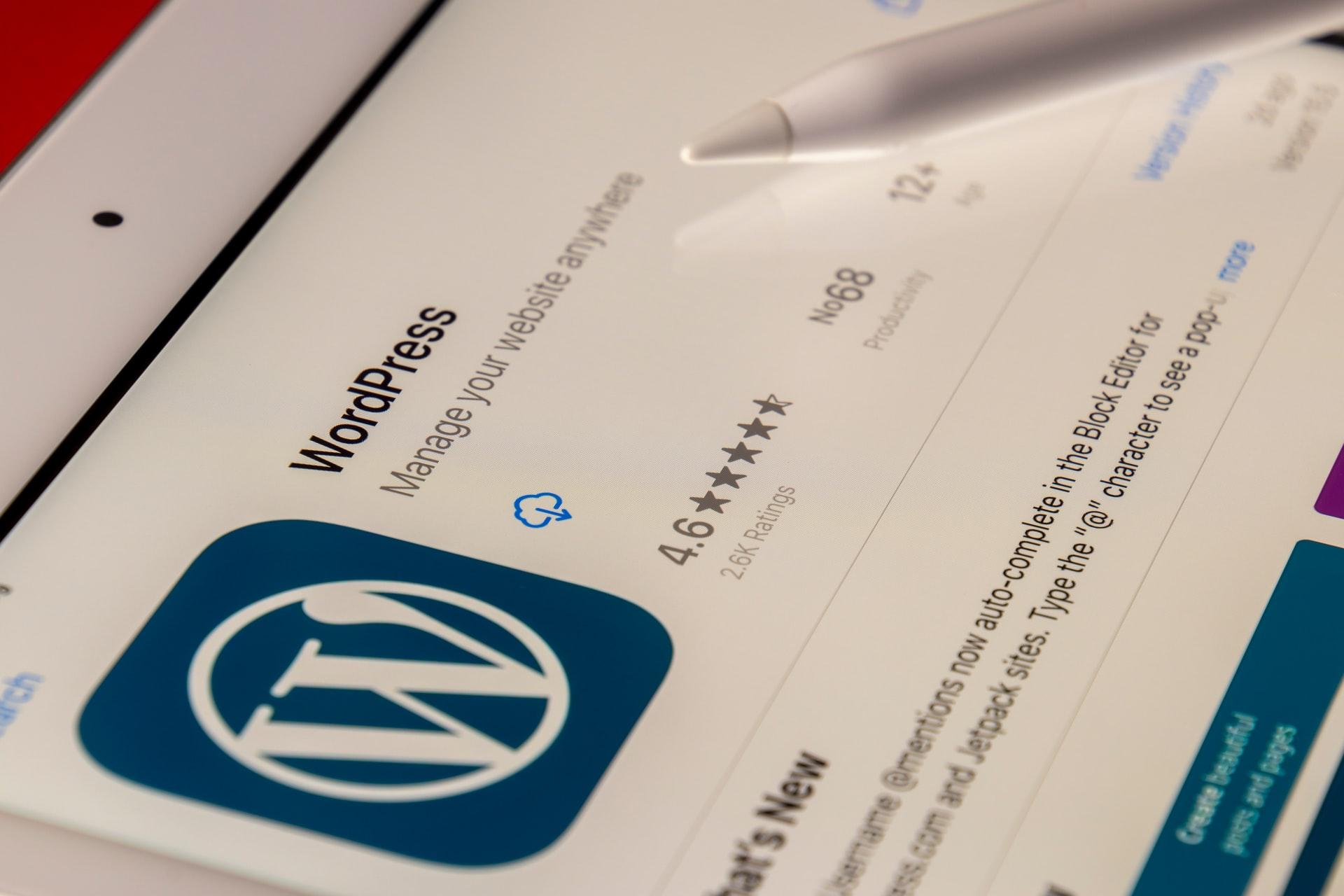 If you want to sell your own online courses, or you have an academy or training school and want to give it visibility, you need to create a website that is easy to use by students and that contains all the necessary tools to manage everything from WordPress.
And it is not only about having good content, but one of the most important aspects of this type of website is that you have a good student portal. So essaywriter.nyc suggests that you should be able to offer all the information, tasks, exercises, videos, and all the resources in a clear and orderly manner. And in WordPress, this is governed by the WordPress template for education or LMS you choose.
Of the many education WordPress themes that exist today, only a few bring together all the functions that this type of websites need while offering a modern and professional design. So, if you're wondering, which WordPress theme for education is the best for 2021? This list will help you choose the best one for you.
Top 10 Best WordPress Themes for Education
We have done an exhaustive search to find the best WordPress themes for schools and academies. We have templates that can be adapted to the content you want to display on your WordPress. You may use the platform to display topics about university projects, school assignments, or educational activities in general, but we assure you that in this compilation you will find the ideal template for you.
LMS Course Builder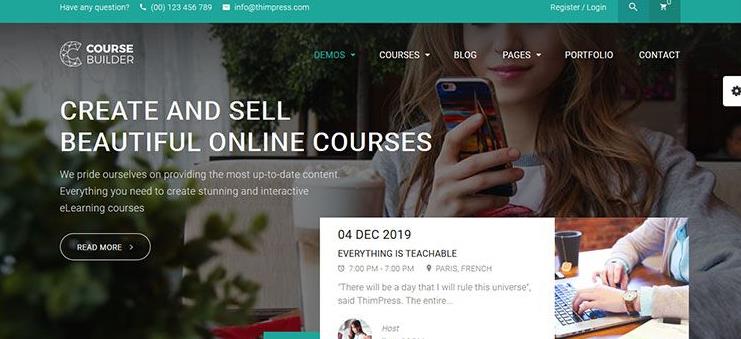 LMS Course Builder stands out as an excellent alternative when it comes to online courses. You will have thousands of possibilities to display, design, and categorize your course platform because it is especially suitable for distance learning centers, teachers, instructors, schools, and universities. Forget the middlemen and sell the courses yourself.
There are so many possibilities you can exploit with this theme: provide business training, offer online courses (paid or free), track students, send homework, publish posts, and much more. It also works with partners like Udemy, Thinkific, and Teachable (which will help you promote your courses through links and advertising).
This particular theme is compatible with all current browsers, both modern and older versions, which ensures that all users will be able to use the learning platform you set up. And, like all WordPress themes for education, academies, and schools in this list, it has a five-star rating.
WPLMS

The following WordPress theme for educational centers (and for selling online courses) is the best-selling WordPress theme for the last year. It is a WordPress template for an education center specially designed to create an educational portal in an online format and also to showcase classroom courses in case you have a school or academy.
The theme gives you an option to add courses, quizzes, online exams, certifications, and everything you need to make training enjoyable and very complete. You will see how each student progresses, you will be able to put notes on their learning and create specific private areas with the material of each course.
In addition, all students will have a private area where they can see their profile, their grades, and the courses are taken, which is very useful when taking an online course.
As for the design, it has 2 visual layouts to create the content without having to touch code, you simply have to choose the demo site that you like and modify it to your liking by dragging and dropping elements with the mouse.
Invent

Invent is presented as one of the most suitable WordPress themes for education for universities or schools with a wide training catalog.
If there is something that has this template is a great facility to be customized. You will find more than 500 fonts from Google Fonts, a range of unlimited colors, more than 200 options for themes and unlimited information bars, as well as a visual layout that will allow you to build strips 100% to your liking.
It can also work with one of the most used educational platforms in WordPress: LMS Plugin. With this platform, you can easily create courses, quizzes, certifications, reports, and subscriptions.
In addition to having a very professional and intuitive design, It is compatible with Chrome browsers, Firefox, Safari, Opera, and Internet Explorer and has obtained a rating of 4.6 stars out of 5. in recent months, denoting that it is a WordPress LMS template for education highly recommended.
Lincoln

Lincoln makes its way as one of the most adaptable and versatile WordPress themes for educational institutions. It proves to be suitable for universities, schools, online course portals, and learning centers. However, it has the flexibility to be used by business sites and creative agencies.
It is integrated with the WooCommerce platform, which helps to monitor purchases and sales of your courses directly from your website and in a very simple way. In addition, the two design tools Revolution Slider and Visual Composer will facilitate the design and composition of your website.
The theme incorporates several styles and demos to customize your website in detail and a myriad of options and templates to organize your courses and the student portal that comes included.
And how could it be otherwise, this WordPress template LMS type is 100% responsive like the rest of the themes in this list and is optimized for SEO.
Skilled

This education WordPress theme will give you everything you need to create your school or training center website. It's perfect for any education center, whether it's primary, secondary, university, or distance learning. You can even create a platform to sell online courses quickly and easily.
It comes integrated with three premium and professional plugins:
Timetable for WP: with this plugin, you can create event calendars and schedule the different classes of the courses.
Visual Composer: visual layout that allows you to edit and modify to your liking the sample web pages that come in the template and you can choose to have your website ready in no time.
Layer Slider: you can create animations and sliders to make your website more attractive.
Thanks to all these plugins, it will be a piece of cake to create the website of your dreams at a low cost and with a result, 100% professional and adapted to all devices.
Guru

Guru is an education and teaching WordPress theme specialized for people who want to sell online courses and manage their entire training platform from one place. You will be able to create a learner portal where your users will be able to take courses the way you have organized.
You can create multiple courses with all the lessons you want in text format, upload your power points, including video tutorials, and even put quizzes and exams at the end of each lesson to evaluate the acquired knowledge of students. You can even organize events on certain dates!
The template comes equipped with Awesome Page-Builder, a tool that will help you with its different design options to create an excellent website without a lot of work.
Guru has a 4.5-star rating and adapts to any mobile device automatically.
School Time

School Time is presented as one of the best WordPress themes for education present on Themeforest, thus achieving an impeccable score of 5 stars. This theme was designed to meet the needs of schools, and academies of all types of courses for children and adolescents.
This LMS theme comes equipped with Layer Slider and Visual Composer creative plugins, which will help you design your WordPress website with great ease. You can also choose from multiple ready-made designs if you prefer to base your website on some of the examples that are included.
It brings a wide variety of fonts from Google Fonts and an unlimited range of colors. It is an excellent choice for teachers and tutors, as they can create profiles, display their teacher data, plan school events and publish multimedia material and even take online quizzes and tests to evaluate the academic performance of students.
EduPro

EduPro is a WordPress theme for educational centers quite particular since it has incredible versatility. It can be used at all educational levels and we assure you that there are no limitations when it comes to creating any type of website for training centers.
Its more than 10 demos will help you to start the design process of your website in a more agile and simple way, based on a sample website designed by web design professionals for educational centers.
In addition, by including the Visual Composer tool, you will be able to modify any part of the website by clicking on the elements you want to change or simply create your designs from scratch quickly and easily.
And just like other LMS themes for education in this list, it comes with the Learn Dash plugin that allows you to easily create and sell courses, gives exams to your students, creates certificates, manages users and students' private areas, and many more.
Smarty

Do you have a daycare or school? This template has been designed to meet all the requirements of the different stages of a child's learning, from kindergarten to college. Smarty has a space for you, no matter what educational level you want to expose on your WordPress website.
It is a WordPress theme for education avant-garde that can serve perfectly for both teachers and students and representatives. It is suitable for displaying events to plan, students' classes, latest events, and news to all your users, as well as complete tracking through the student platform that you can easily create.
Kidzy

Specializing in daycare and preschools, Kidzy is one of the best WordPress themes for basic education. It has an excellent design that adapts to the size of any device, in addition to having a range of bright colors that will attract the attention of your users.
By downloading this WordPress theme for education and teaching, you will find extraordinary features such as systems to manage classes, strips with the call to action and buttons to attract attention, creating teacher profiles, testimonials, news sections, and event planning with the school calendar. It also has an unlimited range of colors and hundreds of fonts from Google Fonts.
It has two premium extensions to design your website for free: Slider Revolution and Visual Composer. These two will help you create, plan and design all the creative aspects of your site with great ease, without any knowledge of web programming. Also integrated is the WooCommerce plugin, which will be your ultimate weapon to sell your courses online.
Ed School

And we come to the last WordPress template for education with Ed School, one of the best WordPress themes for schools 2021 as it is focused on basic and middle education (schools, institutes, preschools, kindergartens, etc).
It is important to note that this theme comes with four pre-designed demos, which will help you a lot when creating a school website or similar. It also includes great extensions in the area of page design, such as Visual Composer, Mammoth Mega Menu, Revolution Slider, and Contact Form 7. It is also compatible with the Event Organizer plugin (but this must be purchased individually).
It works with Edge, Opera, Chrome, Safari, Firefox, IE10, and IE11 browsers. It is presented as one of the favorite themes with a 5-star rating and a very low price on Themeforest.
Differences between Free WordPress Templates for Schools and Academies
Are you sick of hearing these terms? Free school WordPress templates, free academy WordPress template, free school WordPress themes, free school WordPress themes… Is one thing the same as the other?
Absolutely yes. With these terms, we always refer to templates that can be used to create the website of a school, an academy, or any type of education website, both classroom, and online courses.
The only difference is that there are free and paid templates. And the paid ones like the ones you can find in this list are better for the following reasons:
They are optimized for SEO.

They are fast loading

They have hundreds of options so you can customize them to your liking.

They include visual layouts to design by dragging and dropping elements on the screen.

They are very intuitive and easy to use